Everything Star Wars at Disney World's Hollywood Studios!
If you have already started your Disney World Vacation Planning, you most likely know Star Wars is a huge part of Hollywood Studios.  Galaxy's Edge has already opened, but that is not the only place you can enjoy Star Wars at Disney, these are some other must-do attractions at Hollywood Studios.
Star Wars at Disney World
Star Wars fans are loving all the attractions and rides that are all things Star Wars. If you are planning a trip to Disney World and want to make the most of your Star Wars love, check out the performances, character appearances, rides, and more. It is a Star Wars lover dream to see all the fun attractions, and you might even feel like you are in a movie it feels that real at times. 
You can find all things Star Wars spread out through various locations in the Hollywood Studios area. If you are a huge fan make sure you carve out sometime because there are a lot of awesome things to see and do. I am gonna share some of my top picks that you might want to add to your agenda. 
A Few Of My Favorite Star Wars Activities At Disney World 
Meet Characters 
Make sure you take the time to meet Chewbacca, he is extra tall, friendly as can be, and gives you that vibe like you just jumped into a Star Wars movie. Head over to Launch Bay to find him. You can find tons of characters from the movies that you can meet Kylo Ren, Wookiee, and more.  As you stroll around you will run into many characters, take the time to chat with some, and see how fun they are. 
Jedi Training Academy 
This is a show that is really worth attending. They have schedules of when they show will be available for you to go and watch. They are interactive and pick out younger children to help defeat the Sith. It is around 25-30 minutes long, and really fun, especially for younger children. 
Build Your Own Lightsaber 
Head over to Once Upon A Toy where you can build your own lightsaber. As you know any Jedi isn't complete without having a lightsaber. You can create a custom design lightsaber and they are pretty decent prices. 
Stormtrooper March
Make sure to watch the Stormtrooper march, where they march down the middle of the Hollywood Boulevard and then head over to the Theater. It is somewhat of the pre-show to the Star Wars show. I think it was neat to watch them march, and it makes for a great picture to remember.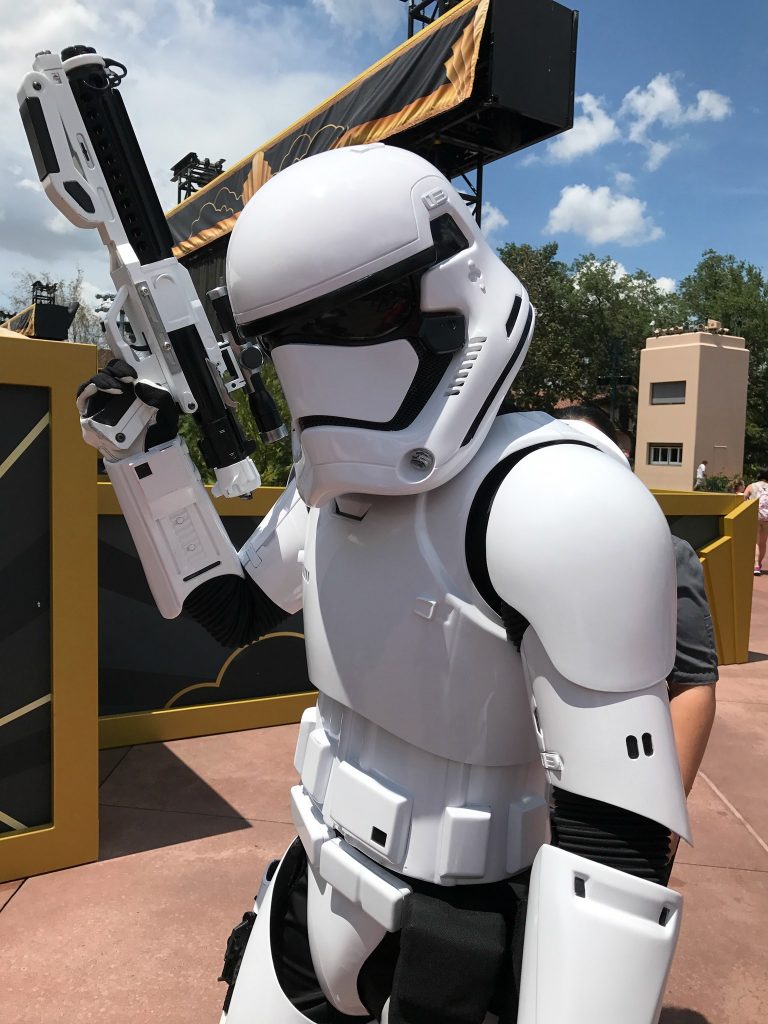 Star Wars Launch Bay 
This is what  I call the central area of Disney's Hollywood Studios. You can head indoors and cool off and check out the galleries of memorabilia and artifacts of Star Wars over the years, shop merchandise, play video games and more. It is a great thing to do when the temperatures rise and you want some time to cool down from the hot summer sun. 
Firework Show 
Make sure if you are there at the end of the night you watch the Star Wars themed light show. It has fireworks, scenes from the movies, and a light show, it really is a captivating way to end your day. 
Millennium Falcom
 Take time to check out the Millenium Falcom, it is truly a magical experience and you will for sure feel like you are on set of Star Wars. Walkthrough corridors, peak and even sit in the cockpit, and more. This is one of the most popular attractions. 
Food 
You can find tons of Star Wars themed meals and treats to give you even more of a special experience. From main dishes to desserts and even drinks you can find something for everyone. That is one of the really unique things at Dinsey, they want every aspect to make you feel like you warped into a whole new world. Plus who can resist a Darth Vader cupcake? 
And So Much More 
This just skims the surface of what you can experience if you take the time to venture over. Make sure to create a list of items you want to do from most important down. You will spend a lot of time walking around and you might come across some really fun rides or shows you didn't even know about. Take the time and just enjoy your time, it will leave you lasting memories! 
Star Wars Galaxy's Edge – The New Star Wars Land at Disney
If you are a Star Wars fan then you are undoubtedly counting down the months until the new Star Wars Galaxy's Edge opens.  It is slated to open late fall of 2019 and the fences around Hollywood Studios has been building the suspense for over a year now.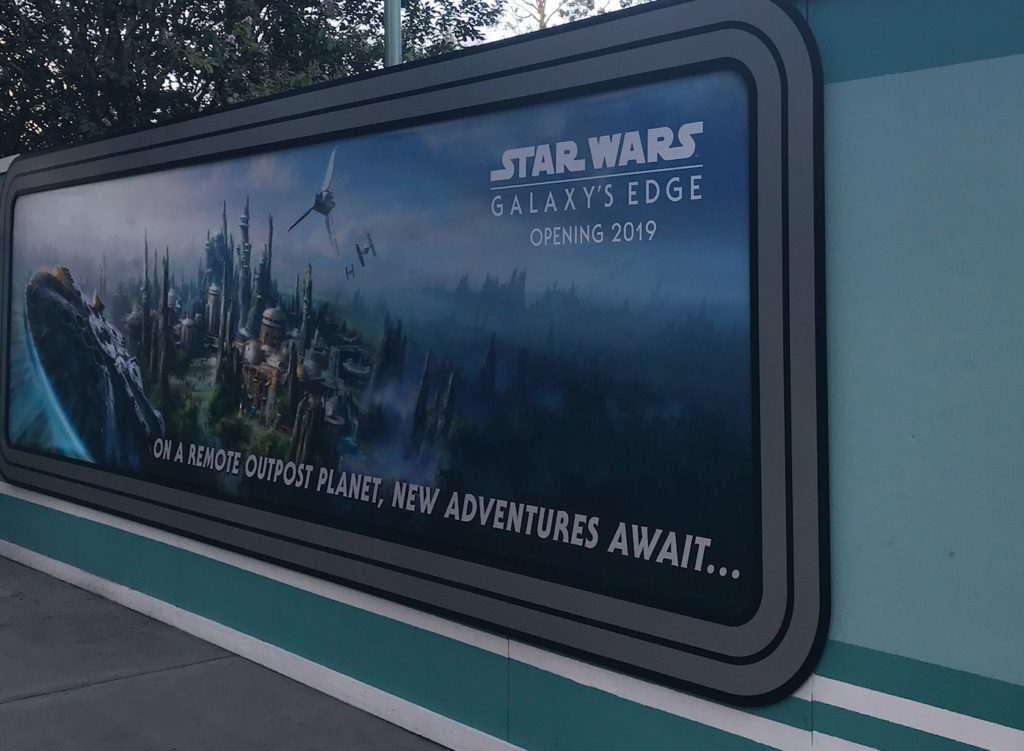 However, after visiting Toy Story Land last week, I can honestly say that my family is now counting down the days till opening day.  Star Wars Galaxy's Edge is so big that you can see how immersive this new Star Wars Land will be over the Toy Story Fence and it was an incredible sight!
If you have been to the Star Wars section, share with me what was the top thing you felt like was a must-see or do for new goers. 
Need more Disney Tips before your next Magical Vacation?  Check out these posts:
Mobile Order in Walt Disney World: Everything You Need to Know
Savvy Ways To Save Money at Disney