Guide to Disney World's Toy Story Land at Hollywood Studios
If you are planning to saddle up and head over to Disney World's Toy Story Land in Orlando, you might want some help to make your Disney Vacation Plan as memorable as it can be. From what to eat, to the most epic rides to check out, and more. Let me help give you a guide to making the most of your day or days spent at the new Toy Story Land in Hollywood Studios! Giddy up, have a blast and make sure to bring your camera for lots of pictures to look back on.
Toy Story Land Orlando Guide
Toy Story Land is based on the fantastic and classic Disney-Pixar movie that is filled with characters like Woody, Jessie, Buzz, and more. The new addition to Disney's Hollywood Studios has become a favorite destination. Learn how to navigate those crowds, so you spend more time with attractions and instead of standing in lines!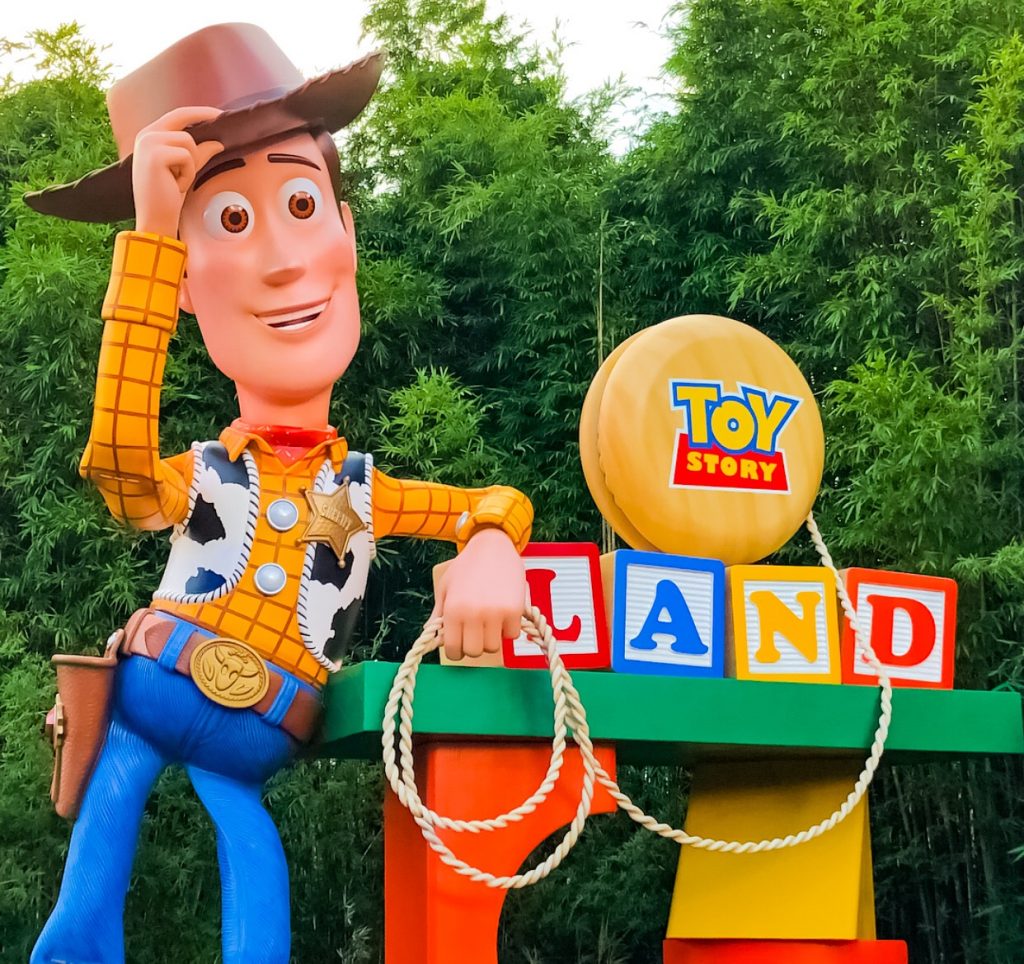 Toy Story Land Rides
The popularity of this part of the theme park means it can be crowded. You can find yourself standing in long lines waiting for over an hour for the popular attractions. Make sure to use your FastPass+ and try to reserve it for the rides you want to do the most. One of the rides everyone recommends using their FastPass+ on is the Slinky Dog Dash.  It is best to try and reserve your FastPasses for this as soon as possible because it gets booked up for long periods of time.
The Slinky Dog Dash is the most popular ride inToy Story Land.  This fun rollercoaster makes you feel like you are riding on the back of a slinky dog.  With smooth snake-like hills, you'll feel like your bouncing along with the toy dog and it contains the perfect amount of thrill and fun to be perfect for kids and parents alike! 
Toy Story Mania is an arcade-style ride that offers virtual 3D games, with lots of characters throughout telling you how to win. This is an entertaining attraction that lets you compete with your family for the highest score. They've changed up the entrance and walkway for this ride which has helped drop the wait time down quite a bit from what they were before Toy Story Land's opening.
If you pass by Mr. Potato Head, make sure to say hi, he is interactive.
The Alien Swirling Saucers has taken over Toy Story Land! This is an enjoyable ride that is also a must-try. This is a pretty fun ride that whirls and whips around, so be aware of that when you hop on. It is said to be similar to the teacups ride if you have ridden them before! 
3 Main Attractions 
Slinky Dog 

Toy Mania 

Alien Swirling Saucers 
Toy Story Land Food 
I can't help but say I always enjoy trying all the good food that Disney comes out with. I mean sometimes you got to admit, fair-style food is hard to top, and Woody's Lunch Box is stepping into the mix with some great items. 
You can get breakfast, lunch, and dinner options, with snacks as well. So no matter what time of day you arrive, they have tasty options for adults and children. S'mores french toast sandwiches, BBQ brisket melt, Totchos, Mystic Portal Punch, and all things in between so you can find a ton of tasty and affordable options to feed your hungry group. They offer a delicious cold brew for any coffee lovers out there that feel they need an energy boost to finish roaming around Disney Park and honestly what parent doesn't need an energy boost halfway through a Disney Day?  If you want something a little more fun, try the grown-ups' lemonade, you won't regret it! 
Tips For Toy Story Land 
Early Bird Gets The Worm 
In this case, the early bird does indeed get the worm. Make sure to arrive early as soon as the park opens, so that you can be one of the first to get in line for the ride you want to get on most.  My suggestion is to get in line for the Slinky Dog Dash first, this line has steadily been over an hour-long throughout the day while the wait time for the other two rides frequently goes down to around 30 minutes.  
Meet And Greets
Make sure to take time for the meet and greets; this is what makes your adventure even more special. From the Green Army Men to the main characters of the movies. Chat and make sure to bring a camera and of course your autograph book! 
Create A List 
Before you get to the park write out attractions or events you want to do throughout the day. Don't make it set in stone but know what your primary goals are, in case you run out of time. Toy Story Land will be busy and walking from one area to another through crowds will eat up time, so I would designate a chunk of time at the very beginning of your day or at the end to experience all of Andy's area.  Then spend the rest of the time exploring other areas of Hollywood Studios on your list. 
Pack for Weather
Make sure to carry a poncho or umbrella in case of impromptu showers, and have sunscreen and water on hand. Orlando is hot, and you want to make sure you stayed hydrated and protected from the sun. 
Most of all just enjoy your trip and enjoy all of what Toy Story Land has to offer. It truly is a magical experience! 
Looking for More Disney World Themed Area Guides?  Check these out:
A Guide to Visiting Pandora at Disney's Animal Kingdom
Planning Tips for Star Wars Galaxy's Edge at Disney's Hollywood Studios