Pot of Gold Candy Craft for St. Patrick's Day
St. Patrick's Day is coming up soon, are you still looking for something fun for the leprechauns to leave your child?  I have the perfect craft idea for you, and best of all almost everything came from the Dollar Store!  This Pot of Gold Candy Craft featuring a reusable chalkboard pot, some yummy candy and even a couple pieces of gold, will definitely bring a smile to your children's faces! 
You can paint the pots in any color you want, perhaps green for a real St. Patrick's Day feel, however, I went with Chalkboard paint because I want to reuse the pots for spring and let the kids plant some flowers and draw on the pots some more. 
Pot of Gold Candy Craft
Materials for Pot of Gold Candy Craft:

Small pots (we got this 3 pack at the Dollar Tree)
Chalkboard Spray Paint
Chalk (Sidewalk chalk from the Dollar Tree)
Pack of Gold Coins (Dollar Tree)
Gold Wrapped Candy
First, take your pots and paint them the color you'd like.  I sprayed mine with two coats of Chalkboard Spray Paint, and let them dry outside for a couple hours.  If you don't want to use chalkboard paint but still want to personalize them, you could use planter labels which I also found at the Dollar Tree.
Once the paint is dry, the rest of the process is quick and simple!
Write each child's name on the pot or draw something.  If I was more artistic, a three leaf clover would have looked adorable on these.

Next, Take a few of the magical leprechaun gold coins and hide them at the bottom of the pots, as a special surprise after the candy is devoured.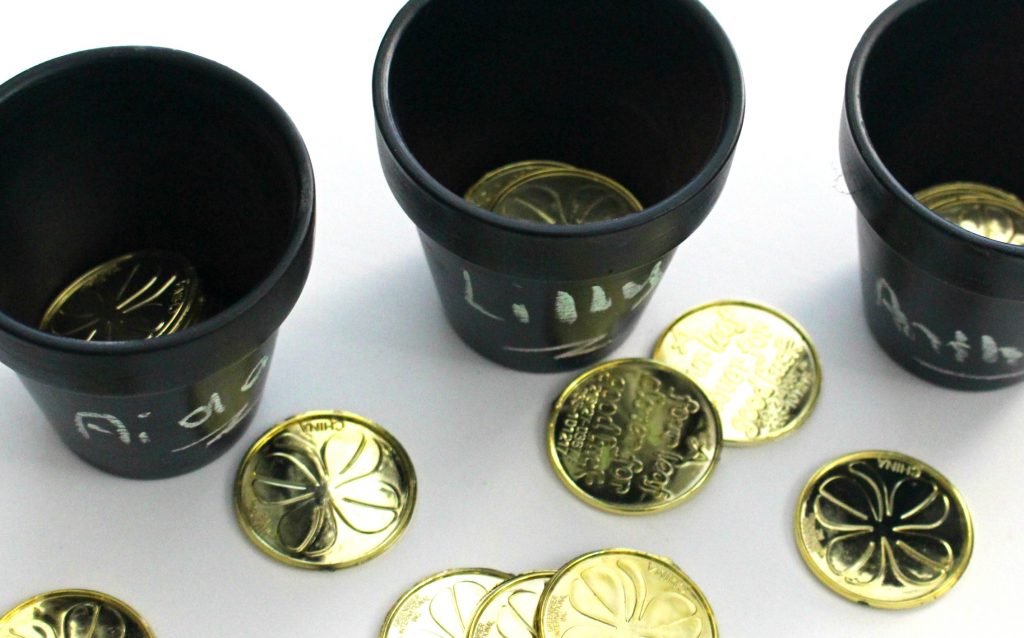 Finally, fill the pots to the brim with some of your child's favorite gold wrapped candy.  We went with rolos because my kids love any kind of candy and I wanted the extra rolos.  Mama deserves some sweets too, right?
When you finished making them for St. Patrick's Day, leave them out someplace hidden and tell your kids that these Pot of Gold Candy Craft's are a special treat left by the leprechauns!
Make sure to check out my Magic Surprise Rainbow Rock Activity and our 2 ingredient dish soap slime recipe to make you're child's St. Patrick's Day even crazier!