Quick and Easy Rainbow Bark Recipe for St. Patrick's Day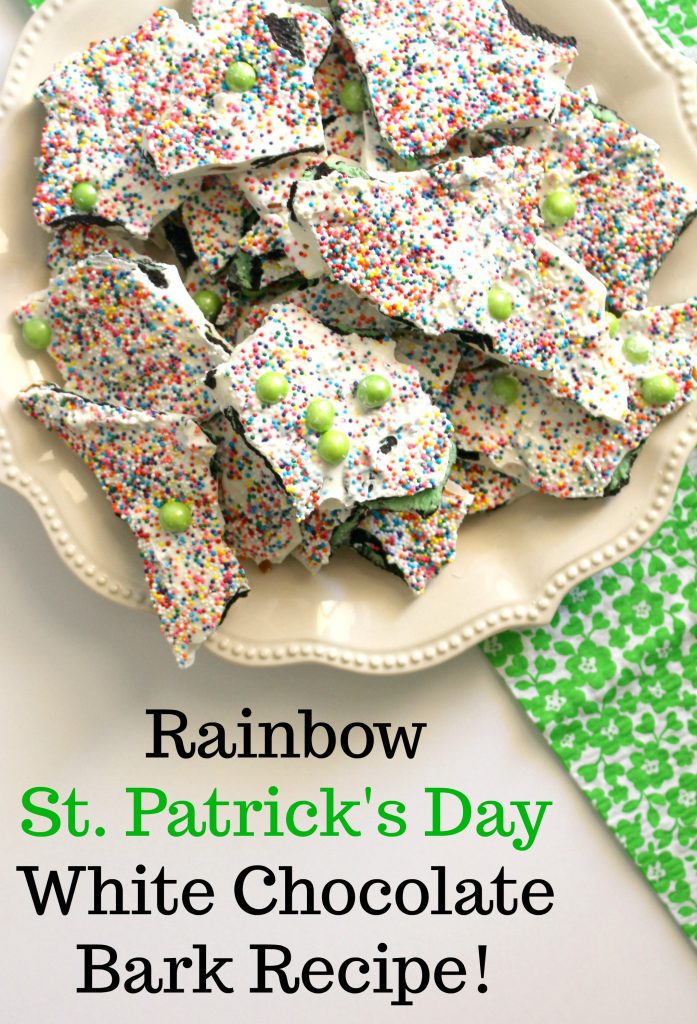 Are you excited for St. Patrick's Day?  Do you have the menu set for a corned beef and cabbage dinner?  Well, what about something sweet for afterward?  You have to try this simple and delicious Rainbow Bark Recipe made from White Chocolate and Mint Oreos.  This will definitely satisfy everyone's sweet tooth and keep them in the St. Patrick's Day spirit! 
Chocolate Bark is one of the easiest dessert or sweet treats that you can make.  There's no reason to start the oven, you can add pretty much anything to the chocolate to make the recipe your own, and you can make it without dirtying any pans!
Rainbow Bark Recipe
Ingredients:
Bag of White Chocolate Melts
Mint Oreos
Pretzels
Rainbow Sprinkles
Start by melting half the bag of white chocolate according to the bags instructions.
Once melted, spread out a thin layer of chocolate onto a sheet of wax paper.
Next, push the Oreo cookies into the chocolate and then break up the pretzels and sprinkle them between the cookies.
Once the center ingredients are laid out, melt the remaining white chocolate melts, and cover the entire chocolate sheet.
Lastly, add tons of rainbow sprinkles!  I also found some green candy balls in the cabinet and threw them on top of the chocolate, because you can add so many fun things to chocolate bark.
You can leave the chocolate to harden on the counter or move it to the fridge if you want it to harden quickly.  I didn't use a pan, so I let the chocolate harden half way and then moved it into the fridge once it was firm enough to move the wax paper.  It was hardened completely in about 10 minutes.
Then comes the fun part, breaking it apart!  There is no rhyme or reason to how you need to break it up.  I just try to get it to the size I would like to grab for a treat.  This is the perfect time to bring the kids in to help break it all up.
Make sure to check out my Magic Surprise Rainbow Rock Activity  2 ingredient dish soap slime recipe and Pot of Gold Candy Craft to make you're child's St. Patrick's Day extra special!