Water Bottle Halloween Crafts
These DIY Water Bottle Mummy's are the perfect Halloween craft for all ages! Super simple and a fun and festive way to kick off the Halloween season.
If you are anything like me, you hate wasting anything. No matter what it is, I swear I can look at a piece of "trash" and see some sort of craft use for it. To me, that's a beautiful thing! I love being able to reuse something again instead of dumping it into a landfill and also showing my children how to be creative as well.
What I love about this DIY Water Bottle Mummy craft is that it takes so little time and so little effort, but the end result is absolutely adorable. All you need are literally a couple of smaller water bottles (used ones are totally fine!) and a few simple other items that you more than likely have around the home, and before you realize it, you've created a super adorable (or spooky if you want!) water bottle mummy that is the perfect Halloween decoration.
Can you imagine having a few of these lining your porch or windows Halloween night? Absolutely spectacular and so much festive fun!
DIY Mummy Water Bottles Halloween Craft
Supplies for Mummy Water Bottles:
• Small Water Bottles
• Gauze
• Glue Stick
• Black Paper
• Scissors
​• Spiders
1. Take a water bottle and your gauze & wrap your water bottle up.
2. Take your scissors and cut the leftover gauze. Then tuck the end of your gauze into the gauze on your water bottle.
3. Now glue on those googly eyes with your glue stick.
4. Time to cut out a mouth using your black paper. Once you have cut one out, glue it onto your water bottle.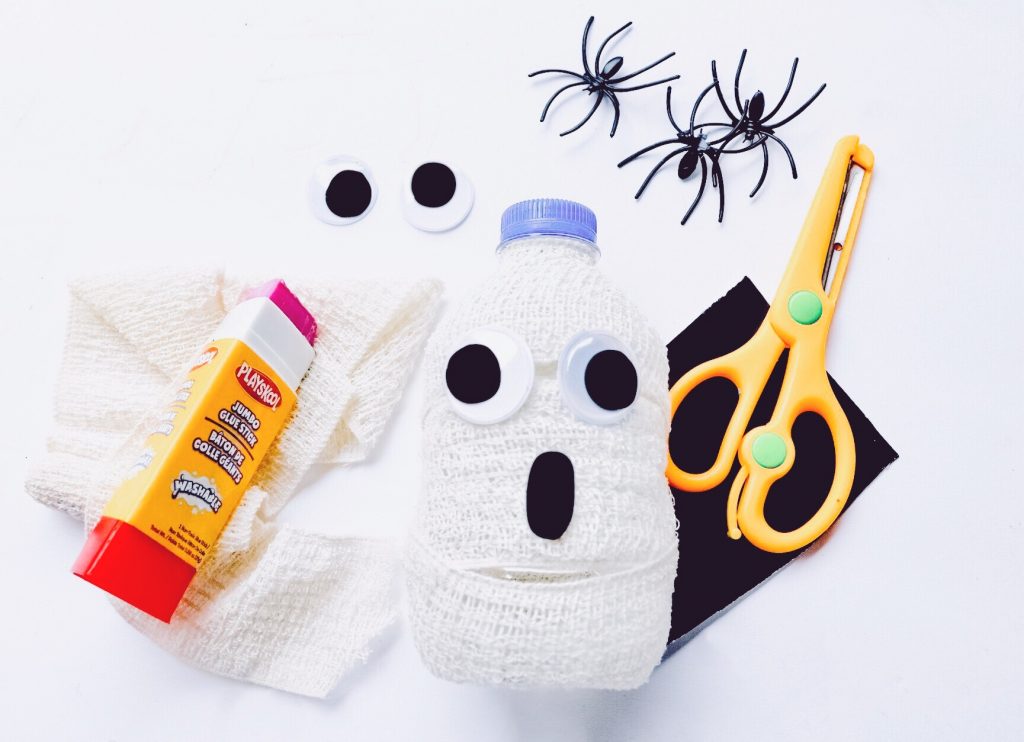 5. Glue on a plastic spider.
6. Ta-Da! You now have Mummy Water Bottles. They make the perfect beverage to serve at your Halloween Party!