Easy and Delicious No-Bake Cherry Chocolate Chip Pie Recipe
This No-Bake Cherry Chocolate Chip Pie Recipe will make you fall in love with the powerful combination of chocolate and cherry!
I can't tell you the last time I've tasted a dessert recipe as good as this. Now, don't get me wrong. I'm a lover of all desserts…but this one…there's something so simple about the flavors, that I just can't stop thinking about it.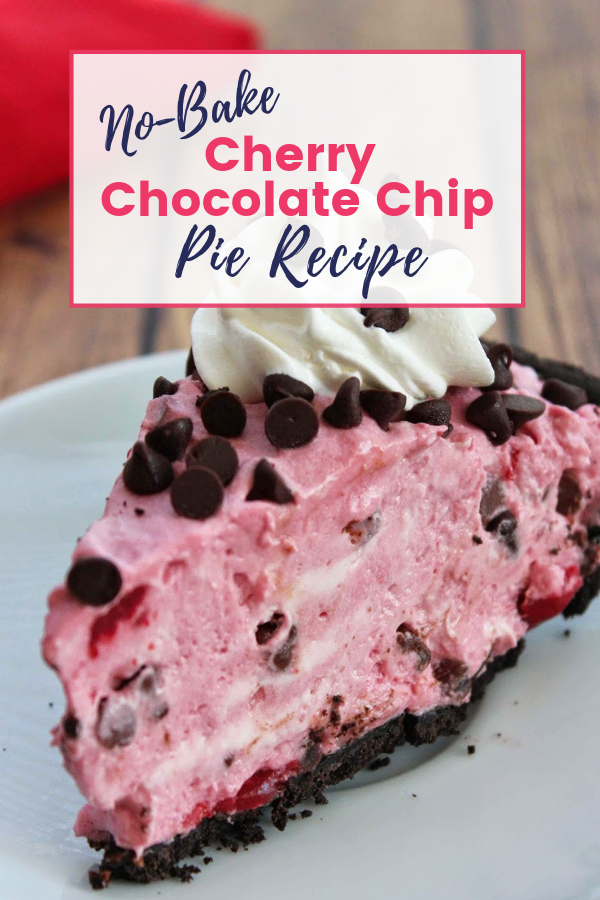 No-Bake Cherry Chocolate Chip Pie
I've made this several times and literally every time I taste it, I regret that I haven't made it more. It's perfect for summer BBQ's, Fall Festivals, and even a nice dessert on a cold, winter day
I think that what I love most about this recipe is that's is so simple to make that it takes zero time or effort on my part at all. Plus, I get a lot of help in the kitchen when making this Cherry Chocolate Chip Pie because EVERYONE wants to have a go at licking the spoon! (Can you blame 'em? That was my favorite part before having kids, too!)
Every once in a while, I vary from the recipe and instead of putting it in the fridge, I freeze it. It still keeps that flavor that we all love, but it just gives it a different texture that keeps it feeling new as well.
Add this one to your favorite dessert list, because you'll be making this pie over and over again!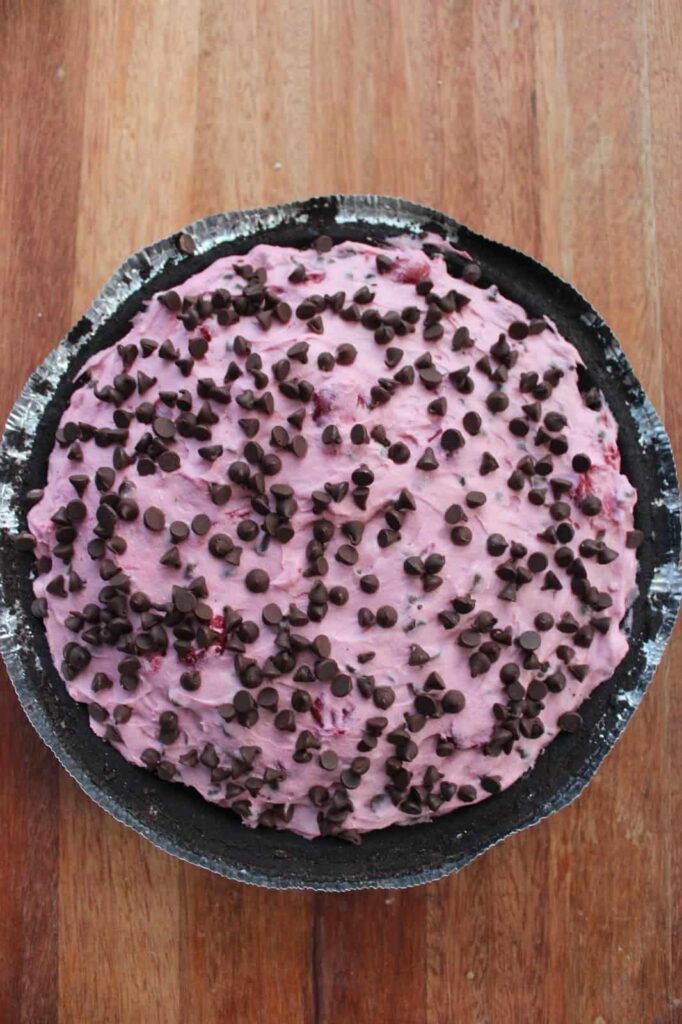 Ingredients to Make a No-Bake Cherry Chocolate Chip Pie
1 ready-made Chocolate Cookie Pie Crust
8 oz softened Cream Cheese
Can of Cherry Pie Filling
1 cup Powdered Sugar
1 cup thawed Cool Whip
1 1/4 cup Semisweet Mini Chocolate Chips
How to Make this Quick and Easy Cherry Chocolate Chip Pie
First, Beat the cream cheese and powdered sugar until smooth.
Next, Fold whipped topping and pie filling into cream cheese mixture.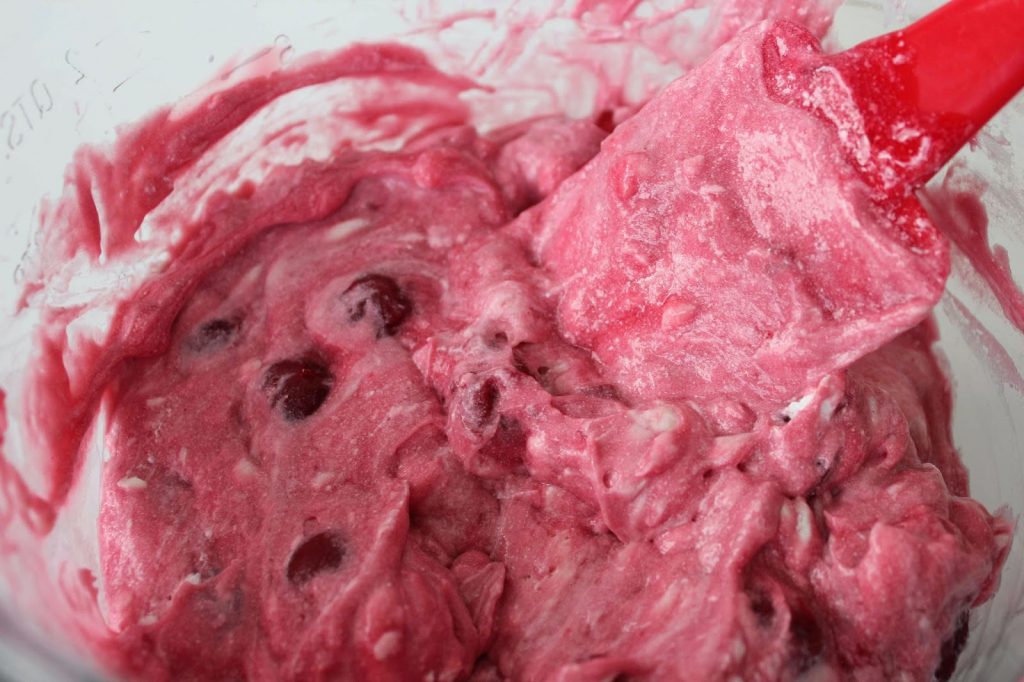 Fold in 1 cup chocolate chips.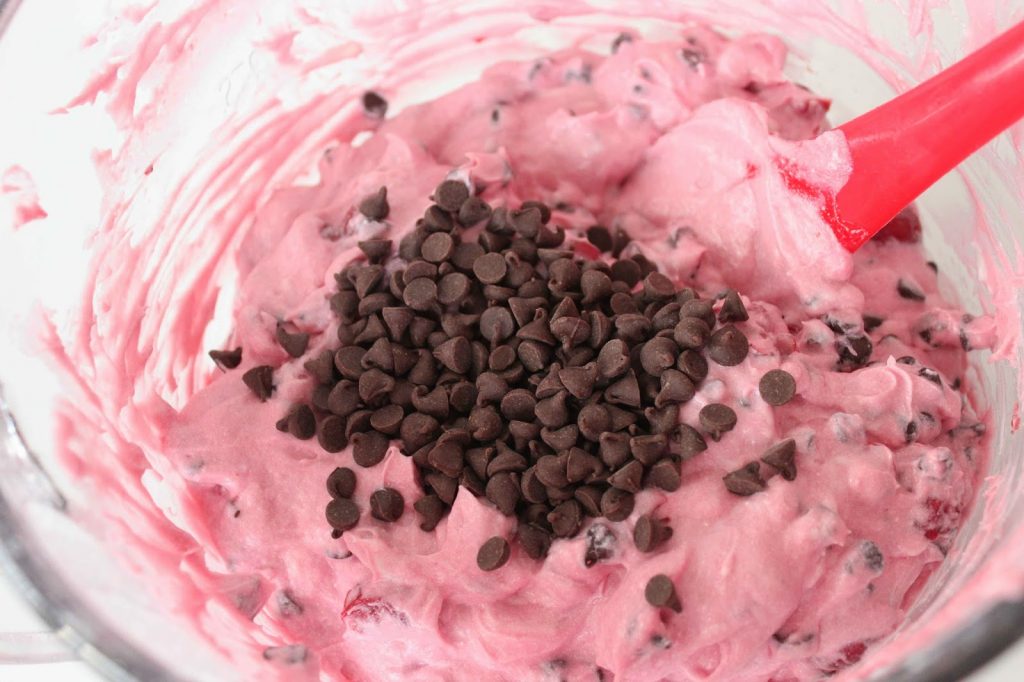 Spread into pie crust.
Sprinkle with remaining chips.
Refrigerate 4 hours before serving.