Become a Princess at Bibbidi Bobbidi Boutique in Walt Disney World
Become a princess at Walt Disney World!  The Bibbidi Bobbidi Boutique is filled with Fairy Godmothers in Training that are ready to transform your little girl into a Disney Princess. Learn everything you need to know before your visit here and check out this Ultimate Disney World Planning Guide to help you plan out the most magical vacation ever.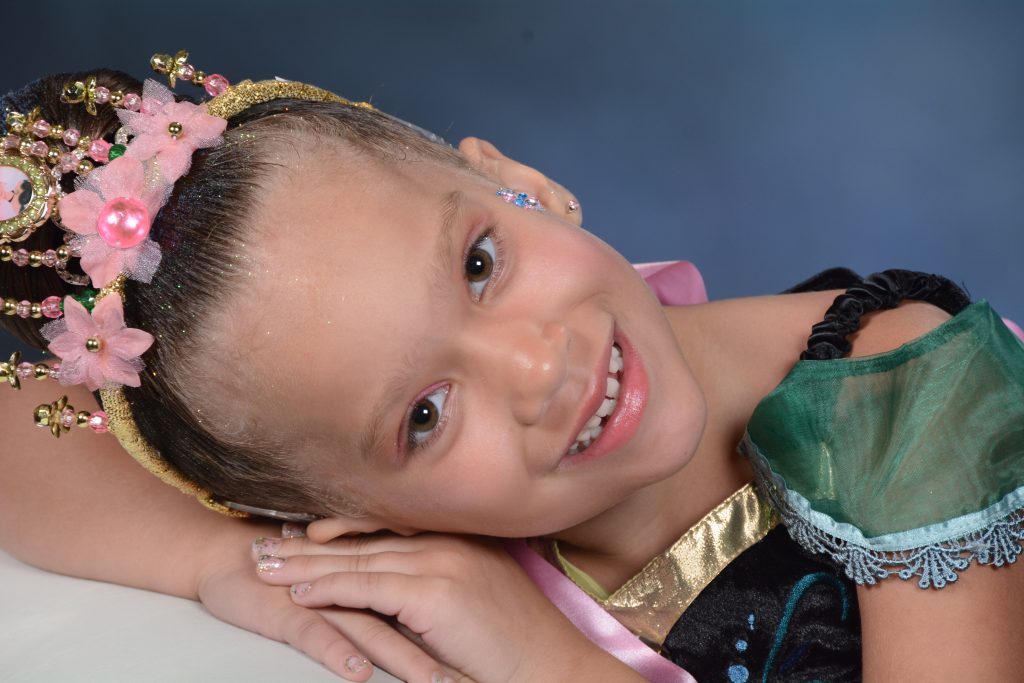 What You need to know about Bibbidi Bobbidi Boutique At Walt Disney World
I love the Bibbidi Bobbidi Boutique at Disney World!  I think its the perfect opportunity for me and Lilly to sneak away from Daddy and the boys and have some very special girl time making magical princess memories!
During our Trip in 2012, Lilly wanted to be Cinderella and because she was still so little I was able to convince her to go with the fairy-tale princess hairstyle.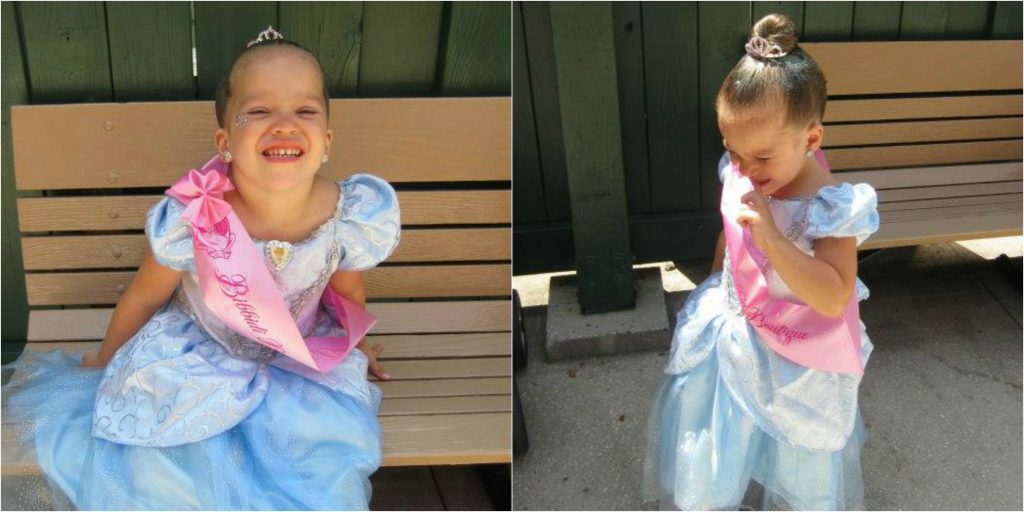 A couple of years later, she wanted to be Aurora but they were out of the costume so she went with Belle.  She also wanted to pick her own hairstyle and that was the Disney Diva style, um yikes!  Even with the spikes and all the colors she still looked adorable though.  During our last Bibbidi Bobbidi Boutique experience, Frozen was in its height of popularity and all the Elsa dresses had sold out so she went with Anna.
Where is the Bibbidi Bobbidi Boutique
There are two Bibbidi Bobbidi Boutique locations within Walt Disney World, one is in Cinderella's Castle within the Magic Kingdom.  The entrance is on the Fantasy Land side of the castle across from the check-in area for Cinderella's Royal Table.  The second location is in Disney Springs.  For years it was located within the World of Disney store, however, when Disney transformed from Downtown Disney to Disney Springs the Bibbidi Bobbidi Boutique got a new location near Once Upon a Toy that is 5 times larger than the previous Boutique area.  We have always gone to the Bibbidi Bobbidi Boutique Disney Springs location because I like to book the experience for our first day of vacation when we are not in the park.  This was we are not wasting any precious time that we have reserved for the Magic Kingdom.
How to become a Princess at Bibbidi Bobbidi Boutique
I highly recommend making reservations before getting to Disney World by calling (407)WDW-STYLE.  Both times we visited Bibbidi Bobbidi Boutique we saw people being turned away because they had no openings left.  Once you have your reservations, simply arrive at your scheduled time and location and head to the check-in counter where you will pick your package, choose your favorite princess, and receive a princess pager if your fairy godmother is not available yet. 
How much does Bibbidi Bobbidi Boutique Cost?
The Current Packages to choose from are:
The Crown Package ($64.95)
Hairstyling
Make-up
Princess Sash and Tote Bag
Nail Polish
The Courtyard Package ($109.95)
Hairstyling
Make-up
Nail Polish
Bibbidi Bobbidi Boutique Shirt
Tutu Skirt
Princess Sash and Tote Bag
The Castle Package ($199.95)
Hair Styling
Make-up
Nail Polish
Princess Necklace, Sash, and Tote Bag
Disney Princess Gown (shoes not included)
Additional Coordinating Accessories
Princess Sash
Tote Bag
Photo Package
The Princess Signature Dress Collection Package (starting at $450.00)
Heirloom quality Disney Princess Gown
High-quality Crystal Tiara with Box
Organza Dress Bag with Satin Hanger
Princess Sash and Tote Bag
Hairstyling
Makeup
Nail Polish
I also recommend adding an imaging package to your princess package.  These are staged professional pictures that are added to your memory maker and printed for you to take with you.  This is an additional $32.95.
Bibbidi Bobbidi Boutique also has knight packages for all the little boys who want to be included in the magic!  These packages range from $19.95 to $79.95.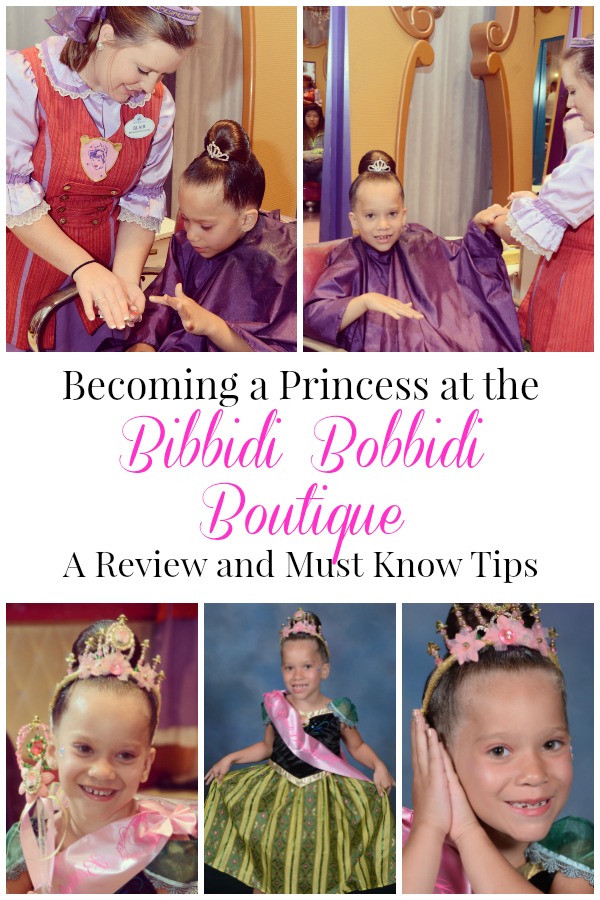 Our experience at the Bibbidi Bobbidi Boutique
Once our magical pager vibrated and began to tell us to come in, we headed back over to the boutique entrance where Lilly's fairy godmother was waiting to take us into a dressing room where her princess outfit was laid out and waiting to be put on.  This is where the fun began.  After she was decked out in a princess gown and had her wand in hand, she was ready to be pampered.
She got into her station and the "fairy godmothers in training" got to work, doing her makeup and letting her choose the hairstyle she wanted.  After her hair and makeup were complete her nails were painted in true princess fashion!
Once her makeover was complete, she received her sash and her fairy godmother waved her wand full of sparkles, making her a full-fledged princess!
When we checked out, Lilly received her pink Bibbidi Bobbidi Boutique sinch tote bag with her princess invitation, nail polishes, makeup, and stickers in it.
Next, we walked down a few shops to the photo studio, where they took some professional pictures.
That completed our makeover fun, but in Disney, the dress up magic continued throughout our stay.  The hairstyle lasted for days, and she wore her princess gown everywhere, so every cast member called her princess when taking her order at restaurants, letting her on and off rides, and introducing her to all the Disney Characters.  Many even bowed and took her hand.  Plus the Disney buses played a soundtrack over the intercom announcing there was a royal princess aboard.  All these little things kept her giggling day after day, and my heart melting.
Ways to Save at Bibbidi Bobbidi Boutique
A Bibbidi Bobbidi Boutique princess makeover can get very pricey, however, in my opinion, it is totally worth it!  The memories will last a lifetime and most children are only at Disney World a handful of times, if not just once.  So the splurge is something I would recommend, however you do not need to get the most expensive package choice.  If you want to do the Bibbidi Bobbidi Boutique experience on a budget, I suggest choosing the cheapest package which is the crown package.  You will receive the sash, tote bag, makeup, hairstyle, and nail polish.  Then bring your child's favorite princess dress from home, buy one at your local Disney Store, or look for a Disney Parks gown on eBay.  She will have a magical princess experience for a quarter of the price. 
While nothing compares to the Bibbidi Bobbidi Boutique for a Disney Princess Fanatic, the Pirate League at the Magic Kingdom is in a league of its own for my boys!  If your child isn't into becoming a royal, perhaps one of the pirate experiences is what you're looking for!