Gear Up at Sears to Make This the Best Year Ever!
I participated in this sponsored campaign for SEARS. All opinions stated are my own.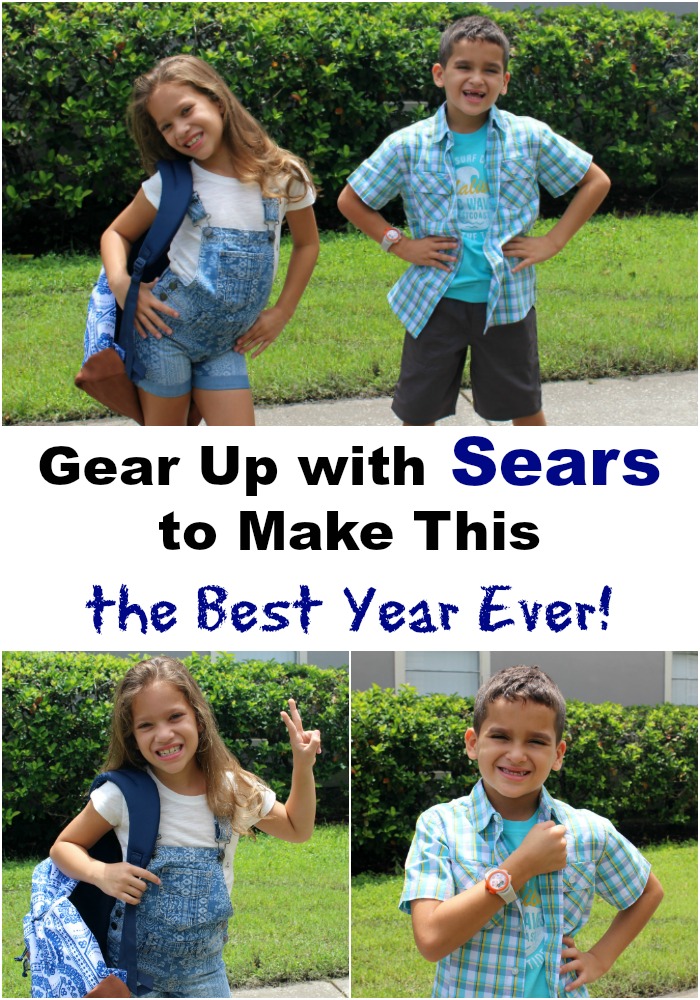 Gear Up at Sears to Make This the Best Year Ever!
I can't believe summer vacation is almost over.  It feels like I blinked and two months flew by, but I guess that's how motherhood always feels. 
My kid's first day of school is next week so the back to school mad dash is in full swing at my house.  Trying to get everyone back on a routine after a summer of late-night swimming and sleeping in late, plus gathering all their school supplies, and finding some stylish back to school clothes, has my to-do list busting off the paper.
Living in Florida means the seasons really don't change, so back to school shopping is the one time of the year that my kids get their entire wardrobe freshened up.  We spend a full day going through everything in their closets and purging all the stuff that doesn't fit or get worn anymore.  With 3 growing school-aged kids that usually leaves a lot of empty drawers and bare hangers, and a long shopping list.
Why Sears?
Shopping for my kids can easily get stressful because each of them has their own personal style.  Anthony is a jeans and sports shirt type of kid, while Aidan wants soft comfortable shorts and his favorite character shirts.  Lilly, on the other hand, wants fashion, unlike the boys, she passes right by the sports and leggings area and starts putting outfits together in her head.  Except when it comes to emoji's, Shopkins, and anything cheer related for them she'll grab the graphic tee.
Therefore we start our back to school shopping at Sears.  From activewear to denim to footwear and backpacks, Sears has everything I need to conquer my shopping list all in one store.  I have been back to school shopping at Sears since it was my own school clothes I was shopping for.  Sears is just one of those stores that have been around for generations, evolving to continually carry everything you need at reasonable prices and great quality. 
What We Bought!
The first day of school is important, it's a fresh start with new teachers and often new classmates.  It's also a time to reconnect with best friends.  Plus, the first day of school photo is always a must, so, the first is the one day (besides picture day) that I really push Aidan a little out of his character t-shirt comfort zone.  This year I could find this adorable outfit at Sears and Aidan actually loved it!  He says, "It's super comfy" Score!
The top is by Roebuck & Co and was on sale for $14.99.  It's two pieces, with a really soft surf-themed t-shirt under a lightweight plaid button-up.  The shorts are by Simply Styled and were on sale for $8.99.  They have a dress look to them but feature a stretchy woven waistband that makes them extra comfy.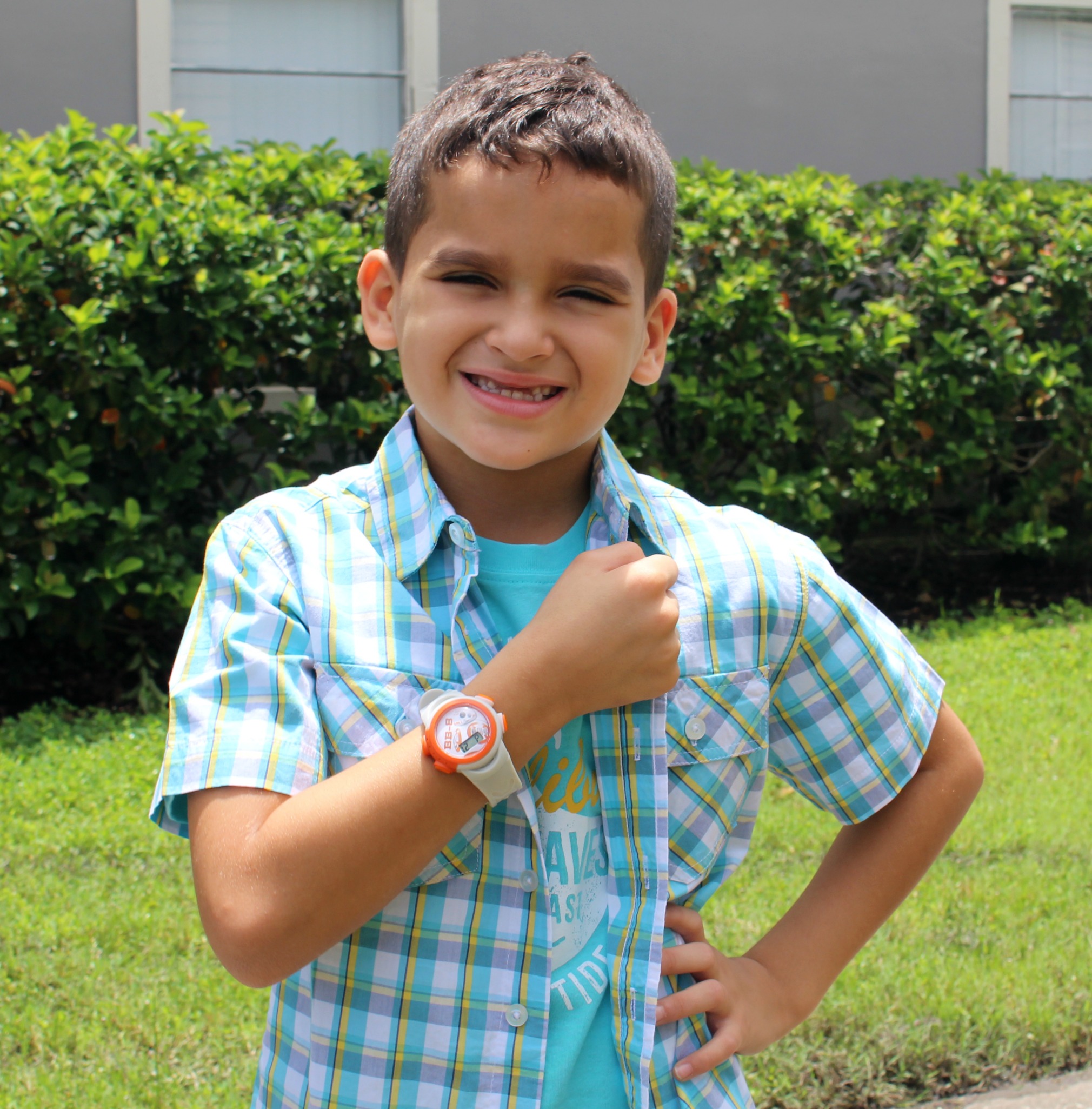 Once the first day is behind us, Aidan will likely be living in the Five Nights at Freddy's Character T-shirt he got which was on sale for $7.99.  He is already begging to wear it, and I may head back to Sears to get some back-ups for when he wears this one out.  With his t-shirts, he likes to wear soft basketball style shorts, so I grabbed him a basic pair of black Everlast shorts which were on sale for $7.99.
Once we left the boys section, Lilly went running to put a couple of outfits together.  She was in awe at the table full of emoji t-shirts, but ended up finding a Shopkins one that had "the best Shopkins on it".  The girl's t-shirts were also just $7.99!  To go with it, I was able to find a pair of Bermuda length shorts by Roebuck & Co that were marked down to $11.99.  I love Bermuda length shorts for school because I think they look more appropriate, however, Lilly is a slim child so Bermuda styles often don't fit right on her thighs.  These fit amazing, so I ended up getting a few of the same style.
Next, she found a pair of overalls that she "needed to have because they are way prettier than the plain ones from before".  These were also from Roebuck & Co and a splurge at just $18.  We grabbed a basic white tee to go under them by Simply Style for just $3.99!
With two outfits each to get started, we head over to the shoe section for new sneakers.  Sears is a great place to gear up on affordable shoes, with all kids' shoes on sale starting at just $9.99.  The twins both love Sketchers, the have been picking them out since pre-k, and Sears always has us covered!  Aidan wanted black and red because those are his football team's colors, and Lilly wanted the brightest pair she could find that lit up.  Both pairs were on sale for $31.99.

Lilly is a true girly girl, wanted a wall of shoes in her closet, so leaving the store with only one pair of shoes when she wanted to try on the entire aisle was breaking her little fashionista heart.  However, as we turned the aisle I saw these gorgeous sandals on sale for just $5.99!  They were an instant YES!
The last thing I wanted to get done was backpacks, and Sears has every type of backpack I could imagine.  Character backpacks, stylish backpacks, sporty backpacks, backpack kits, literally around every corner I found more backpacks.  I thought for sure Lilly would have gone for a fun character one, especially considering they had her favorite princess designs.  But, nope, she got all grown up on me and decided she wanted one with a cool pattern.
When she picked up the JanSport one I had seen her eyeing all day, I instantly prepared to have to talk her out of it.  I had seen these backs before for over $80 and I wasn't about to buy an 8-year-old an $80 backpack! but as always Sears didn't let me down, it was on sale marked down to around $50.  Which still seems like a lot, but the quality is great and she uses one backpack all year.
After 3 hours in Sears, I left with 2 very happy kids, 4 outfits, 2 pairs of sneakers, a pair of sandals, and a backpack for under $200!  Plus, Sears is part of Shop Your Way, a free social shopping destination and rewards program so I earned points towards future purchases!
Upcoming Sales for Back to School in August!
Week1 & 2: Get an extra 20% off when you spend $50 or more thru 8/12 to gear up on all the back to school necessities to make this year amazing.
Week 3: Get an extra 20% off when you use your Sears card or 15% off with any other payment.
Week 4: Get an extra 25% off a purchase of $40 or more.
Have you started back to school shopping yet?  What are you waiting for?  Sears provides shopping convenience with a seamless connection between the in-store, mobile and online shopping.
The first day of school will be here soon, so make sure you take advantage of the awesome sales at Sears and gear up for a great year!