What You Need to Know About Disney World's Caribbean Beach Resort
If you're planning a Walt Disney World Resort vacation, I highly suggest you stay at a Walt Disney World Resort. On that note, I'm going to share my top Disney Caribbean Beach Resort tips with you today!
My Top Disney Caribbean Beach Resort Tips
Have you always wanted to stay at a Disney resort, but haven't pulled the trigger? Or maybe you've stayed at a few, but haven't made it to the Caribbean Beach quite yet. Well, my friends, this post is for you. The Caribbean Beach Resort is one of my favorite Disney resorts and I recommend it to everyone from Disney fanatics to first-timers. It offers so much to families especially. Not only is the beachy vibe of this moderate Disney resort SO Florida, and probably what anyone traveling to the sunshine state is looking for, but it's super relaxing to boot. Get ready to be transported to the islands of Barbados, Jamaica, Martinique, Trinidad, and Aruba!
Why You Should Stay at the Caribbean Beach Resort
Ok, now that you're in a tropical frame of mind, let's talk price. Then we'll get into the property and which type of room you should request. If you're a Florida resident, you can save 25% by booking between September 1st and December 24th this year. I absolutely love Walt Disney World in the fall, so this is a no brainer for me. And if you aren't from our fair state, prices typically hover around the $200-$250 price point through the end of the year. Maybe a last minute trip is feasible for you? If so, book before August 28th. Walt Disney World resorts are running a special summer room offer right now!
But what exactly are you going to book? Let's focus on those rooms shall we? If you have a young child with you, the pirate room is a can't miss! My kids still talk about steering their pirate beds and it's a few years past when you would think they might be impressed by such a thing. Haha! I also suggest that you go for the pool or lake view. And if you're really feeling feisty, the preferred room. This property's grounds are expansive. If you're going to spend the bulk of your time at the pool, you're going to want to be close to it. I'm partial to the lake and it's "beach" myself, but my kids are all about the pool! What kid isn't all about a hotel pool? Bwah!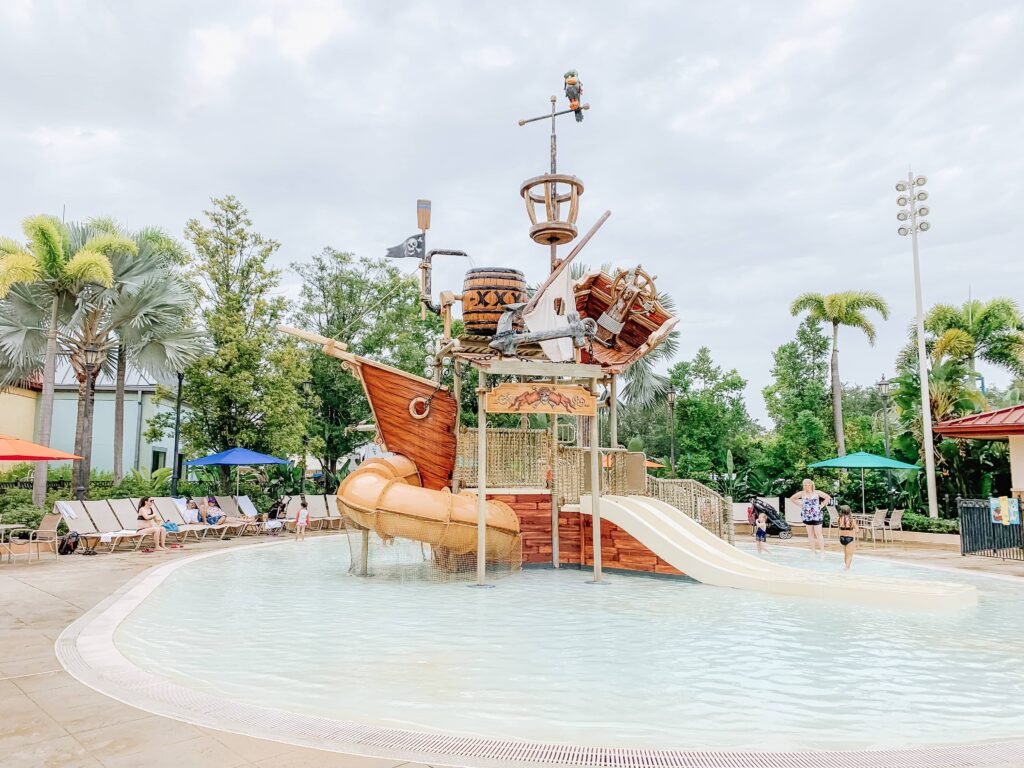 And speaking of the pool, the Fuentes del Morro Pool is built like an old fort and comes complete with 2 waterslides, water cannons and more! How cool is that? My kids park it at this pool, but there are 5 leisure pools around the property to take advantage of too! So, my top pool tip is…know your audience. If you're on a relaxing vacay with your honey, maybe visit one of the other pools. If you're with your family, on the other hand, get ready to blast each other with those water cannons!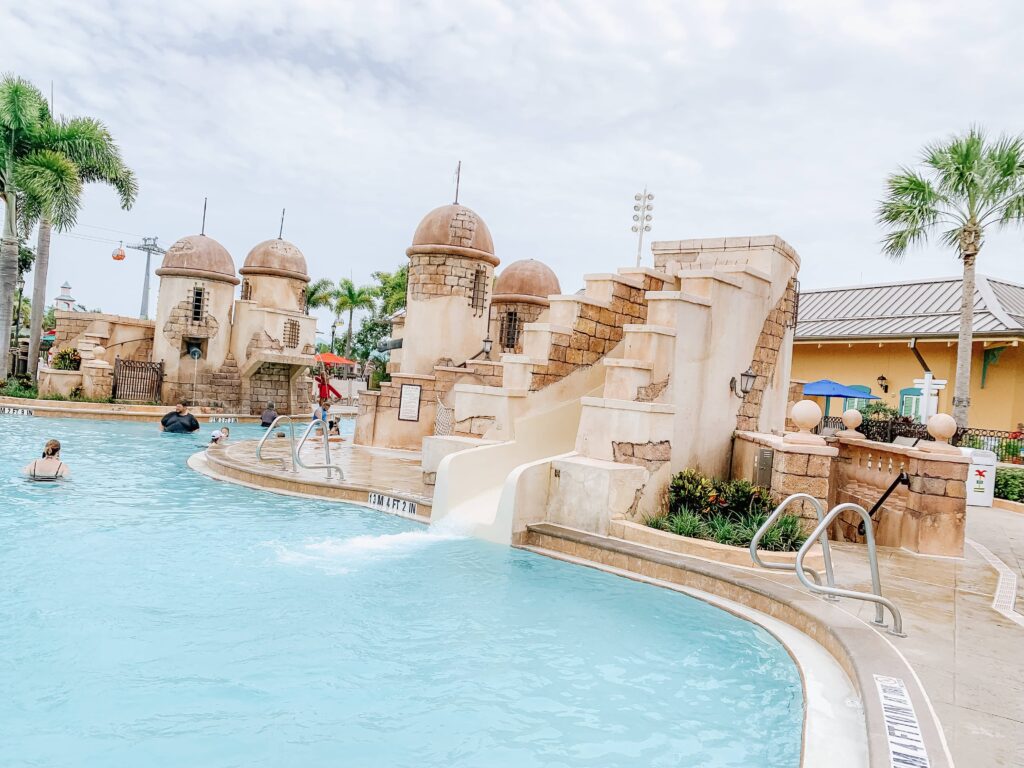 And my final tip is, rent a car if you aren't driving. The only way to get from the Caribbean Beach Resort to the parks is by bus and those bus rides can take a LONG time. I mentioned how large the property is right? Well, with several areas to stop at, if you aren't the first stop, you better get comfortable. I'm on the impatient side, so I would rather drive to the park than deal with lengthy bus rides, especially if I have kids in tow! Then I can use the time I saved to enjoy a nice meal on the property! Dinner at Sebastian's Bistro is just what any vacay needs.
Trust me! It doesn't get much more tropical than their tasty menu! And a tropical dish is a must-have for any Florida vacation!
More Disney World Planning Tips