Snake River Farms – True Ranch to Table
You all know I am always on the lookout for ways to make life easier for us busy moms and in the kitchen is where I always need some simplicity. However, with growing boys who want meat during every meal, my shopping trips started becoming more frequent and taking a lot longer. BUT I found a delicious solution, that you have to try! Snake River Farms sent me a package of their award-winning American Wagyu beef and Kurobuta pork and I don't know how I will get my family to eat another type of meat again. This was the best steak I have ever had!
This post is sponsored by Snake River Farms and contains affiliate links.
They ship their products right to your door so you don't have to worry about the meat counter anymore, everything comes frozen and ready to be placed right in your freezer, and the taste is unlike any other beef I have ever tried. This is a win on all fronts, if you want to give Snake River Farms a try make sure you grab the coupon code at the bottom of this post.
Snake River Farms
For those who love beef, the words "Wagyu" and Snake River Farms are as close to heaven on earth. This Idaho-based company has been producing top-quality meat since 1988 when they adopted their first Wagyu cattle program that would later become known all over North America for its rich flavor and sublime marbling qualities which result in an amazing combination not found anywhere else.
What is American Wagyu Beef
I just heard about Wagyu beef over the summer, when my nephew who works in the meat department of our local grocery store and my son were talking about how they grill their steaks, teen boys seem to spend their money on steak nowadays instead of CDs and Arcades. Anyway, they were telling me Wagyu is the breed of cattle from Japan, and I joked with them about a trip to Japan to try this incredible beef that is known for its marbling and tenderness in the meat making them very sought after by chefs around the world.
It has taken some time but American wagyu beef is becoming increasingly popular not only among professional chefs but also by private individuals wanting this luxury meat in their homes as well! There really isn't anything like it on earth, this is truly the best steak I have ever tasted.
It's that special and if you haven't tried it yet then why wait any longer? It is time to place an order with Snake River Farms.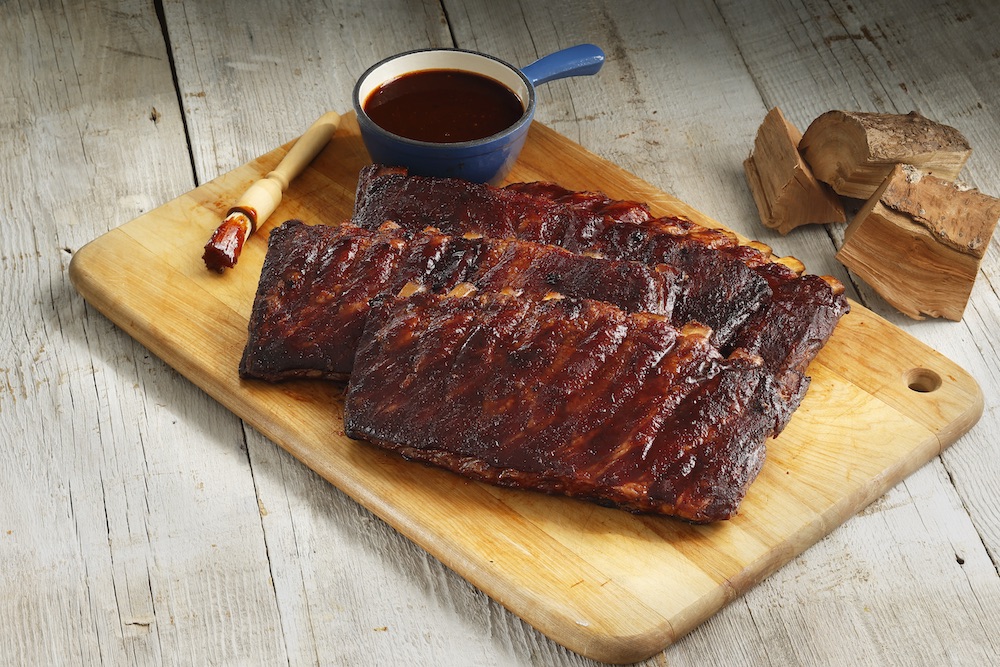 What is Kurobuta Pork
Kurobuta Pork is made from a unique breed of Berkshire pig with Japanese heritage that is known for its excellent flavor and tenderness. Kurobuta Pork from Snake River Farms is juicy and flavorful and because the pork is raised on small family farms, and is all-natural with no added hormones, you are truly able to experience the farm to table experience.
How is Snake River Farms Beef and Pork Delivered
Snake River Farms packages each cut of meat individually in air-sealed labeled packaging so that once you receive your box it is easy to simply restock your freezer.
The packaged meat is placed in an insulated box with dry ice to keep everything frozen during delivery.
How to Order from Snake River Farms
You can select the styles of beef and pork you would like to order on their website and place an individual order. Although once you try their steaks you will be better off with a subscription plan so that you don't have to think about ordering your meats anymore, they will simply arrive at your door, ready to go.
Snake River Farms offers a variety of subscription plans so that you can find one that fits your family, including plans that offer mixed boxes of both Kurobuta Pork and American Wagyu Beef.
Coupon Code for Snake River Farms
Are you ready to try American Wagyu from Snake River Farms? Head over to their website and use coupon code Mommyhood to get 10% off your entire order!