6 Ways to Save on Beef this Holiday Season!
This post is funded by The Beef Checkoff and brought to you by The Motherhood. All opinions in this blog are my own.

The holidays are here and as the only one with kids in my family, holiday parties are usually at my house.  The kids don't like to leave their new toys on Christmas and I like them home in their own beds when the ball drops on New Year's Eve.  While I love all the planning, decorating, and cooking, I don't always like the impact these huge dinners have on my budget.

Luckily this season, beef retail prices are down nearly 10 percent from the highest prices in late 2014, making it easier on your wallet. This is great news as we plan for holiday meals!  


You can expect to be seeing lower prices at the meat case in your grocery retailer. Take advantage of these prices as you shop for roasts, steaks and ground beef this season.  I sure will be, my husband loves steak, and my taco dip with layers of ground beef is a holiday staple in my house.


This 10% savings will definitely help, especially during a time of the year when so much money is already going out.  However, I am always looking for ways to save on my grocery shopping and The Beef Checkoff has some awesome advice.

The Beef Checkoff, the leading authority on all things beef, shares expert tips on how to get the best deals on beef this holiday season and every day.

Now that you know that it's an option within your budget, are you thinking about Beef for your holiday dinner but not sure where to start?  Beef It's What's For Dinner has you covered.
Where to Start
Add roasts to your grocery list this holiday season, an excellent cut of beef to serve friends and family! Here are the resources you need for preparing a perfect roast to wow your guests:
This oven roasting guide will help take the guess work out of this simple preparation method.

Follow this guide to find out exactly how much beef to buy for your guests, no more, no less.

Confused about which roast to buy? Visit the Interactive Butcher Counter for a variety of options – you pick which beef cut fits your needs!

For additional holiday entertaining ideas, browse this recipe collection at beefitswhatsfordinner.com.
Not sure what to make this holiday?
beefitswhatsfordinner.com some incredible recipe ideas!  Here are some favorites;

Citrus-Marinated Beef and Fruit Kabobs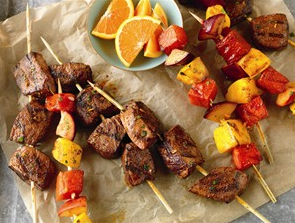 Braised Short Ribs with Red Wine Sauce


Beef Stuffing with Apples and Cranberries
Adding beef to your holiday menu offers endless possibilities and is sure to impress.
Stay connected with Beef. It's What's for Dinner for more tips and yummy recipes!
Social media: Twitter |  Facebook |  Instagram |  Pinterest | YouTube.
Have a wonderful holiday dinner!
All Images above credited to The Beef Checkoff.