Create Your Own DIY Rosette Heart Valentine's Day Card

Create Your Own Paper Rosette Heart Valentine's Day Card
I can't believe we are already in February and talking about Valentine's Day!  January flew by in the blink of an eye, but I have this beautiful and easy rose filled heart Valentine's Day card made out of rolled paper to share with you.  It is so pretty no one will know how easy it was to make and it is a perfect Valentine!
List of Supplies:
Colored Craft Paper and white craft paper
Scissors
Craft Glue
Pencil – to trace the template
Template
Instructions:
Step (1)
Take a small piece of colored craft paper and cut it into a spiral as like the spiral template.
Step (2)
Take the spiral paper and start to roll it from its outer edge.
Step (3)
Keep rolling the spiral pattern until reaching the center.
Step (4)
Apply glue on the center area of the spiral pattern, which now should be positioned below the rolled pattern. Press the roll with the center to make sure that it is secured and glued with the center part.
Step (5)
Similarly, make around 20 rolled roses. You can create more if required to fill the heart pattern.
Step (6)
Prepare the card using any colored card paper other than white. Trace and cut out the heart pattern of the template from a white paper. Glue the cut out heart pattern on the front side of the card.
Step (7)
Now start to glue the rolled roses inside the heart pattern on the card. Start gluing the roses from the bottom edge of the heart pattern.

Step (8)
Glue the roses along the border, moving upwards.

Step (9)
Fill the heart pattern with the paper roses neatly. Once done filling the heart with roses, allow the glue to dry for a while.

Though this step is optional, you can also add a thin border around the sides of the card. Take 4 thin strips of colored papers and glue them along the sides of the card.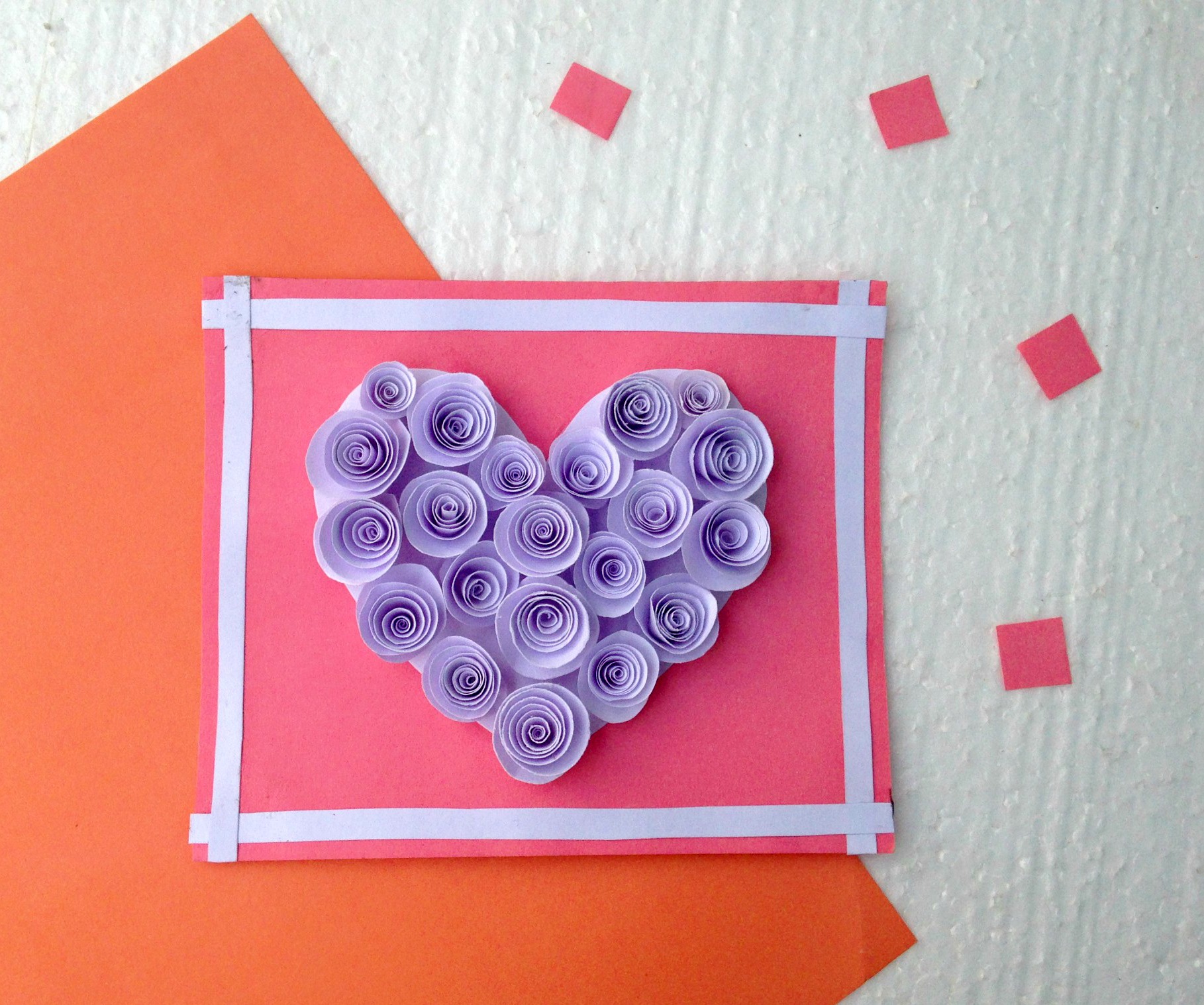 Are you ready to get crafty?  Print out the template and get started.
Happy Valentine's Day!
Check out these fun Valentine's Day Owls once your cards are finished!