30 Days of Disney on Freeform Schedule with Printable Calendar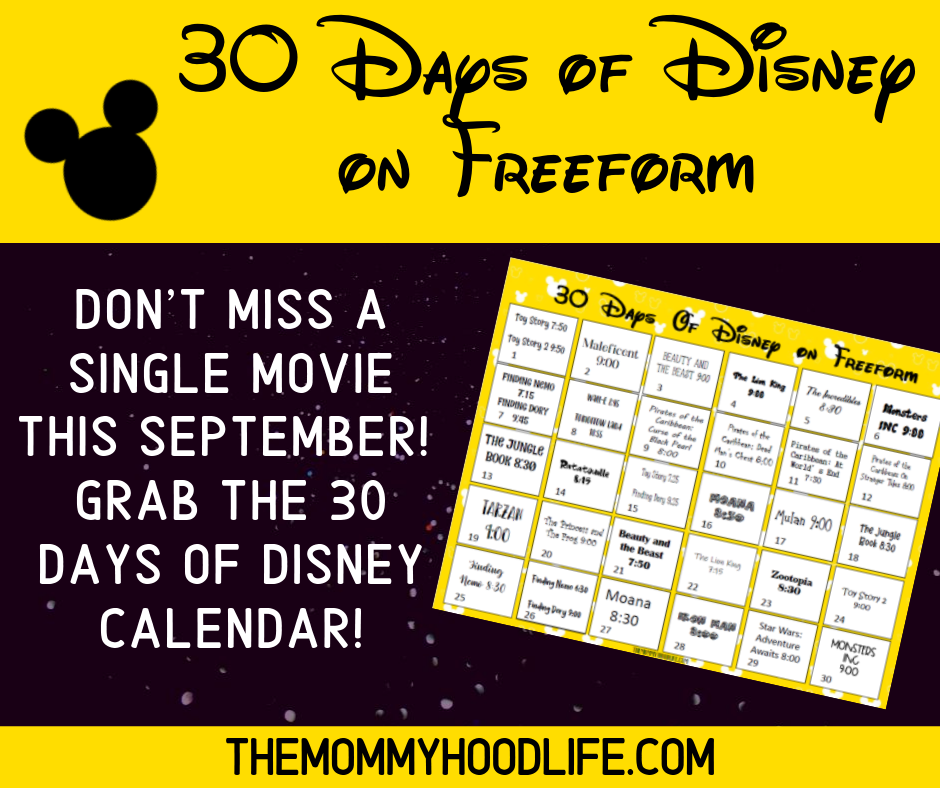 Every weekend Freeform runs movies to enjoy with your family, but coming this September will be showing a whole month of your Disney favorites!
Not only will movies be running through the weekend, but they will be showing them throughout the week too. Thirty Days of Disney is a great time to catch your favorites so grab the printable and post it where you can see it!
What Movies Will Be Part of 30 Days of Disney on Freeform
September 1st will be an all-day marathon, but most notably you will want to catch the fan favorites Toy Story 1 & 2 will be back to back that evening.
Freeform will make the whole month fun with themes every week on the weekdays!
Villains Week (9/2-9/7) kicks off with Maleficent on Monday evening. Each night will feature a movie that has your favorite, or not so favorite, villain, in all the films.
Pirate Week (9/9-9/13) features all the Pirates of the Caribbean movies. Your family will enjoy all of the adventures that Jack Sparrow gets into… Plus you will be able to brush up on your pirate talk just in time for "Talk Like a Pirate Day" on September 19th.
Sing-along Week (9/16-9/20) will feature your favorite movies in sing-along form. Have fun sitting on the couch and belting your favorite Disney tunes. Disney will also have a special feature Newsies: The Broadway Musical on September 19th at 11 a.m. so make sure to set your DVR to catch this Freeform premier.
Sheroes Week (9/23-9/27) will feature movies with female leads. Zootopia, Finding Nemo, and Finding Dory will most notably be showing this week.
What is a Disney marathon without a Disney special? September 29th tune in to Freeform to watch Star Wars: Adventure Awaits. Fan-favorite Neil Patrick Harris will host a two-hour special for a look into the new attraction Star Wars: Galaxy Edge. Guest stars and Disney Imagineers will be joining him through the evening to help give you an inside look into the attraction.
30 Days of Disney Printable Schedule
September promises to be a fun month on Freeform. Grab this free downloadable calendar so you don't miss any of the magic!