15 Adorable Moana Inspired Crafts for Kids Who Love The New Princess!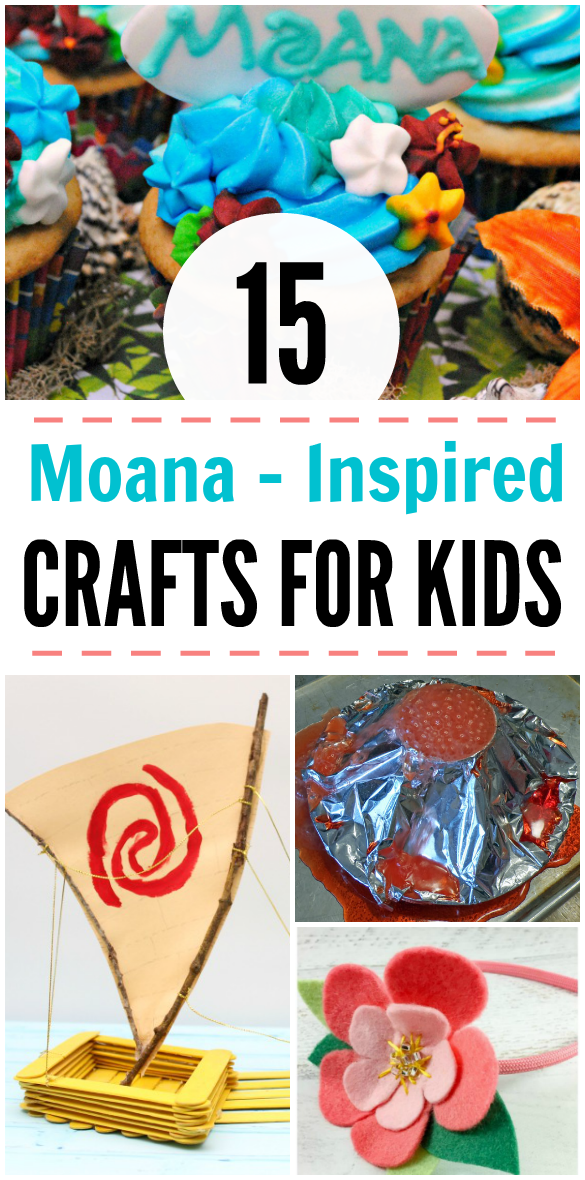 Moana Inspired Crafts
Moana has been on repeat in my house for over a month now.  All my kids are obsessed and the twins are singing "How Far I'll Go" as I type this.  Moana has been such an incredible sensation everywhere I look, so I'm guessing you know a Moana fan. 
Disney really hit it out of the park with this movie's storyline!  It was so inspirational and showed a princess taking control and saving herself and her village without a prince.  It was full of great lessons I was excited to share with my daughter. 
Because of our love of Moana, we have been on the hunt for the best Moana Inspired Crafts, and I think I've found them!
You have to check out these fun Moana crafts:
1. Moana Canoe Popsicle Craft Moana from ABC Creative Learning
2. Moana's Felt Flower Headband from My Mom Made That
3. Moan's Cupcakes from Merlot Mommy
4. Baking Soda Volcano from The Joys of Boys
5. DIY Grass Skirts from Make and Takes
6. Sea Shell Craft from Mess for Less
7. Disney Moana Crafts from Healthy Happy Family
8. Maona's Necklace from Simple Practical Beautiful
9. Moana's Hei Hei Craft from Taylor Jeolle Blog
10. Flower Crown Spring Craft from Cutting Tiny Bites
11. Quick & Easy Paper Hibiscus Flowers from Blue and Clover
12. Pineapple Wine Cork Craft from Raising Whasians
13. Moana Inspired TamaToa Shiny Slime from As the Bunny Hops
14. Disney's Moana Hei Hei Snack Plate Recipe from Having Fun Saving
15. Gorgeous Graduations Leis from Just Fab
These are some awesome ideas, right?  Well, I got carried away and found five more…
16. DIY Moana Heart of Te Fiti Glitter Jar Craft from Mama Cheaps
17. DIY Crepe Paper Hibiscus Flowers from Lia Griffith
18. Moana Necklace Craft from Catch My Party
19. How to Make Tissue Paper Flowers from Uncommon Designs Online
20. Moana Inspired Easter Eggs: Fun DIY Project from Stuff Parents Need
So get out your craft supplies this weekend and start creating this magical princess themed Moana Inspired Crafts.