Wee Blessing is a Busy Family's Fashion Solution!
This is a sponsored post on behalf of Wee Blessing, as always all opinions are 100% my own.
Wee Blessing is a Busy Family's Fashion Solution!
It's that time of year again when all us moms are going through our children's closet and swapping out winter clothes for summer and checking out what no longer fit them.  My kids are all still growing so there are usually only a few pieces that I'm able to reuse from the prior year, which means clothes shopping with 3 kids! As a busy mom, finding time for this task is a nightmare, add to that the fact that my daughter is a fashion-obsessed 8-year-old, and the idea all together makes me want to cry.  Luckily I just learned about Wee Blessing!
What is Wee Blessing
Wee Blessing is a clothing subscription box for kids, moms, dads, and even maternity.  The send a box of clothing based on your style inputs, straight to your front door.  Try on the 5 outfits your receive, keep what you love, send back what you don't, beyond simple!
What came in Lilly's Subscription Box
If you have been following us for any length of time, then you know my girl loves fashion.  She is all about clothes, accessories, and shoes. I won't even lie, I have asked her on many occasions what I should wear.  So when I opened the box, I didn't know what to expect, but I was thrilled because she adored EVERYTHING!
The first outfit she got was a gray Justice unicorn design t-shirt with some neon pink Justice lounge shorts that had a cheer design on them.  This outfit was perfect because it came from her favorite store, Justice, plus it included 2 things she loves unicorns and cheerleading. This outfit has already been worn to tumbling practice.
The second outfit she received was a pair of Celebrity Pink dark wash denim shorts and a Gymboree white glam & gorgeous tee.  This outfit was definitely a keeper because denim shorts are always a must all summer long, and beyond down here in Florida. Plus, the shirt's design was adorable and Lilly loved the sequin glasses design in her favorite color, gold.
The third outfit in her box was a Gap Kids magenta lace tank dress.  She liked this dress because she said it was comfortable and went well with her glasses.  I liked that it was an easy dress that she could wear to school, church, or even over a swimsuit to the beach.
For her fourth outfit, she got a mint green Gap Kids tank top that had the sequined logo Gap on the front, with a pair of SO American Heritage black drawstring shorts.  She loves how comfy the black shorts are, and they are perfect for school and cheer practice because they don't look like workout shorts but are soft enough to practice in.  Plus, the tank top had sequins on it, so that was an easy yes.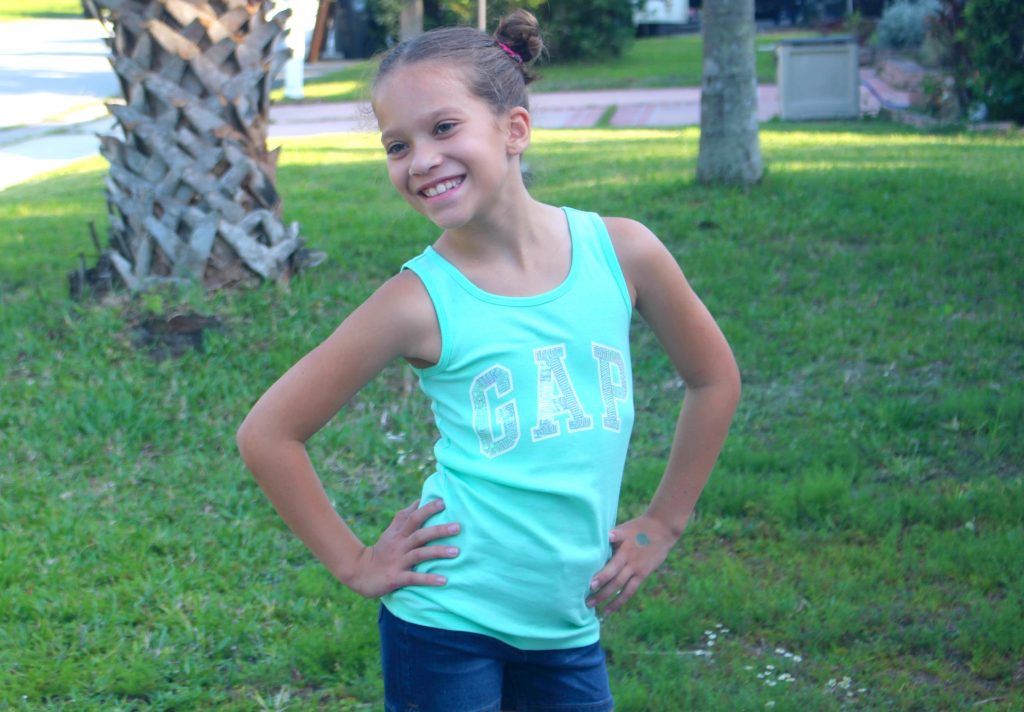 Then for her fifth piece, she received a Vigoss bright patterned halter one-piece bathing suit.  This was a great addition to her box because we are in the water constantly from the start of summer break through the first day of school.
How to Get Started
To sign up for a Wee Blessing subscription, head over to weeblessing.com and choose who your subscription is for.  Once you have chosen who you want to outfit, you simply answer a few questions about the type of clothing and styles you like.  They ask you about sizing, fit, colors, etc to get a good feel for what outfits will work for you.
Next, you receive your 5 outfits in the mail, perfectly packaged with brand new clothing, a return envelope, instructions, and an item price sheet.  
You have 10 full days to try everything on and decide what you would like to keep. Then fill out your price sheet by circling what you're keeping or not and email the completed checkout form back to Wee Blessing, and send back any items you don't wish to keep using the enclosed shipping envelope.  
If you keep everything you will get 10% off of your Blessing.
What are the Prices Like with Wee Blessing
Lilly's box came with pieces that were extremely reasonably priced.  The prices for each item are as follows:
Justice Tee
Retail Price: $16.90
Wee Blessing Price: $7.00
Justice Shorts
Retail Price: $19.90
Wee Blessing Price: $9.00
Gymboree Top
Retail Price: $19.95
Wee Blessing Price: $9.00
Celebrity Pink Denim Shorts
Retail Price: $30.00
Wee Blessing Price: $13.00
Gap Dress
Retail Price: $34.99
Wee Blessing Price: $15.00
Gap Tank Top
Retail Price: $16.99
Wee Blessing Price: $7.00
SO American Heritage Shorts
Retail Price: $24.00
Wee Blessing Price: $11.00
Vigross Bathing Suit
Retail Price: $30.00
Wee Blessing Price: $12.00
My Overall Opinion of Wee Blessing
I absolutely love what Wee Blessing is offering, Time is precious and clothes shopping is not how I want to spend a lot of my time.  Wee Blessing allows me to get great styles and brands at great prices delivered to my door to try and decide. The only part I would change and hope it does in the future is the checkout process.  I would like to see the entire checkout process available through the website, opposed to emailing. However, in the grand scheme of things, this is a minor issue. With 5 people in my family, Wee Blessing has the potential to save me a lot of time and money and for that, they are truly a blessing!