5 Reasons I Love My Cricut Explore Air 2 + Two Fun Crafts
This is a sponsored conversation written by me on behalf of Cricut. The opinions and text are all mine.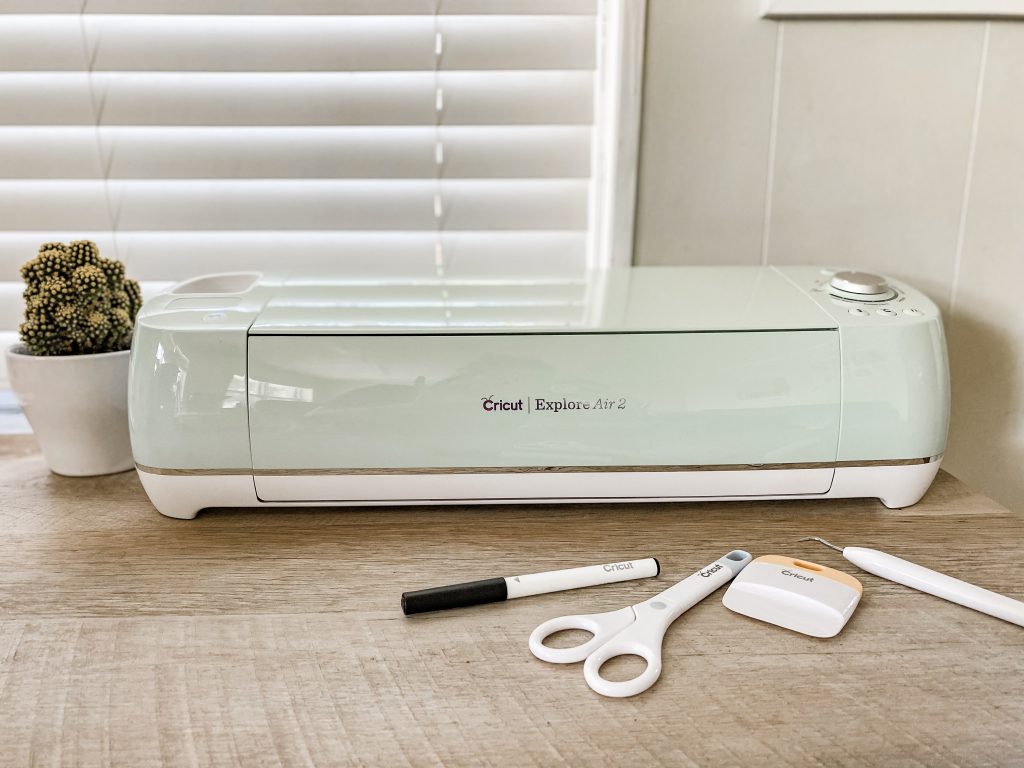 The Cricut Explore Air 2 has been on my crafting wish list for years!  I kept seeing so many of my crafty friends creating amazing things all over social media with their Cricut machines, and drooling over everything this machine could do.  Well, last month I got invited to be part of the Cricut Blogger Program (Insert scream here!) and I finally got my hands on a beautiful Cricut Explore Air 2 with all the must-have accessories! 
I have to say, I am completely in love, this beautiful mint colored crafting magician has definitely revived my passion for crafting!  The only regret I have is not getting one when I first felt nudged, so if you are thinking about purchasing a Cricut, take my advice and do it.
Features of the Cricut Explore Air 2
Cuts, writes, and scores 100's popular craft materials
Bluetooth® wireless technology
Fast Mode for up to 2X Faster Cutting
Available in a variety of different colors
Double Tool Holder
Fine-Point Blade for cutting a wide variety of popular craft materials
Upload and use your own images and fonts
Compatible with Scoring Stylus and Deep-Point Blade
Compatible with Cricut cartridges
Design Space® software for iOS, Android™, Windows®, and Mac® 
5 Reasons I Love the Cricut Explore Air 2
It is Easy to Use
I can honestly say I was shocked at how easy the Cricut Explore Air 2 was to use.  Originally when I opened the box I was nervous about learning the ins and outs of working it. I even mentioned to friends who saw the box sitting on my desk, that I was scared to open it.  However, I was so wrong!  The Cricut Explore Air 2 comes with a starter project in the box which helps you get confident working with the machine and it is truly as simple as turning a dial and pressing a button.  Plus, all the design ideas within Design Space® walk you step by step through the process.
Use it on the Go
I love a good crafting party with my friends and the Cricut Explore Air 2 is small and light enough that I can take it along with me.  Plus, I am able to access the Cricut Design space from my laptop, iPad, and phone so I can have fun creating designs on the go and the Bluetooth feature makes it even easier.  At a recent baby shower I attended, my friend set up her Cricut in a restaurant function room to create a "make your own onesie" station and it was a huge hit.
Cuts Different Materials
The Cricut Explore Air 2 cuts, writes, and scores over 100 materials!  This means you can have fun creating amazing things using everything from cardstock, vinyl, and iron-on material, cork, duct tape, felt, and so much more.  I love being able to get a flawless cut whether I am creating planner stickers with vinyl and sticky paper or party decorations with heavy cardstock.
I can Personalize Everything  
I have always loved having things personalized, from shirts to notebooks, but I was one of those kids who could never find her name on the rack of personalized keychains or bookmarks in any stores, and I unintentionally put my children through the same disappointment when choosing their names.  However, now that I have a Cricut, everything is going to be personalized! 
We have a large citywide pirate themed party coming up and I have already begun planning out the perfect coordinating personalized t-shirts for my family (keep an eye out on Instagram for them).  Our homework station is also getting a complete upgrade with lots of personalized aspects for each child, so keep an eye out for a future post.
Color Options and Price Points
I love anything that comes in fun and different colors, I have been known to make large purchases including my camera solely based on the fact that it came in a pretty color.  So when I saw the variety of colors that the Cricut Explore Air 2 came in, I was drooling!  My 2 favorite colors are mint and pink, so I was thrilled to receive the mint machine, but no matter what your color preference is, Cricut has you hooked up.  If you want a simple color to coordinate into a room, go with the black but if you love bright fun colors go with the raspberry.
After learning more about this Cricut Machine and everything that it can do, I am honestly shocked at the price point.  Currently, it is priced at under $250 with bundle options that include everything from tools to vinyl along with the Cricut machine for under $300.  Considering all the items you make not only for yourself, your family, and your home but also for gifts, this is an amazing deal.
How to Create Designs for your Cricut Explore Air 2
The Cricut Explore Air 2 uses a program called Design Space which you can access on your computer or download the app to your phone so you can you use it virtually anywhere.
Within Design Space there are ready-to-make projects along with thousands of fonts and images for you to use to create your own projects.  While Cricut Design Space does offer a large selection of free options for you to choose from, there are countless premium projects, fonts, and images that do cost extra, but this is where Cricut Access comes in.
With a Cricut Access Subscription, you get access to over 400 fonts and over 100,000 premium Cricut images.  At just $7.99-$9.99 a month, this could save you a lot of money depending on your crafting style.
Creating a Custom vinyl Decal Tumbler with the Cricut Explore Air 2
My son is a big basketball fan, and sometimes I feel like I spend more time in the bleachers than I do at home, so I figured why not make a fun tumbler to show my Basketball Mom pride on the sidelines.
To create this personalized tumbler, I opened up Design Space and searched for Basketball Images.
I found the Basketball Mom Image first, chose the size I wanted and decided to cut it on Teal Vinyl.  I turned the material dial to vinyl and placed the vinyl on the cutting matt.  Design Space walks you through each step to make sure you have the right cutting materials installed, and once you have followed these steps you click create.
Now the load button will blink on the Cricut Machine, press it and load the cutting mat, next the Cricut logo "go" button will blink and you press that to begin cutting.
After the cutting is finished, I used the Weeding Tool to remove the excess vinyl around the image, and placed Cricut Transfer Paper over the image and peeled off the backing of the vinyl. 
Finally, I placed the vinyl image where I wanted it on the cup and used the Scraper Tool to make sure the vinyl was attached everywhere without any bubbles and lastly I gently pulled back the transfer paper to reveal my fun new Tumbler.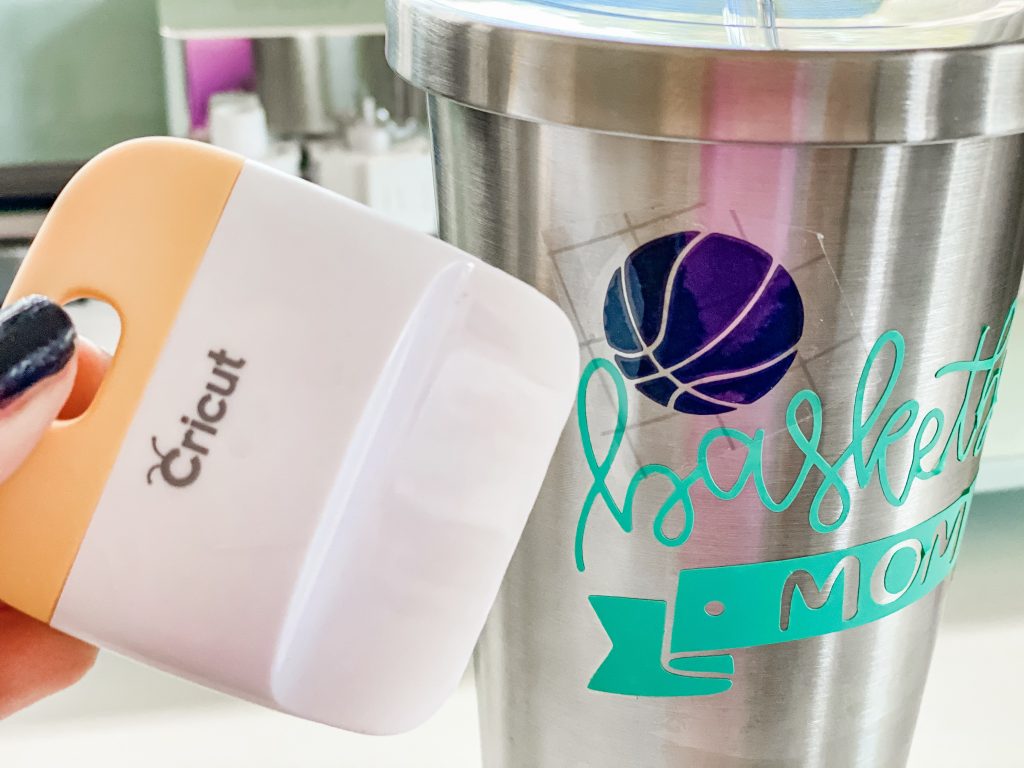 (I followed the same steps with the basketball image and the basketball hoop image in black.)
Paper Fortune Teller Made With the Cricut Explore Air 2
Ready for a blast from the past 80's kids?  Check out these fun Paper Fortune Teller's that are in the Cricut Design Space!  Where was the Cricut Explore Air 2 when we were folding our white lined paper trying to make these in school, imagine having one as perfectly written and folded as this.
My 5th grader had no idea what these were, mom fail, so I had a blast showing her how to use it and talking about what we used to write in them as kids.
To create your own, simply enter Cricut Design Space and search for Paper Fortune Teller.  Choose the one you want to make, check that you have the supplies needed, and click create.  For this DIY Fortune Teller I needed a piece of paper to use, I used a piece of Cricut Deluxe Paper, a LightGrip Machine Mat, Scoring Wheel, and Cricut Pen.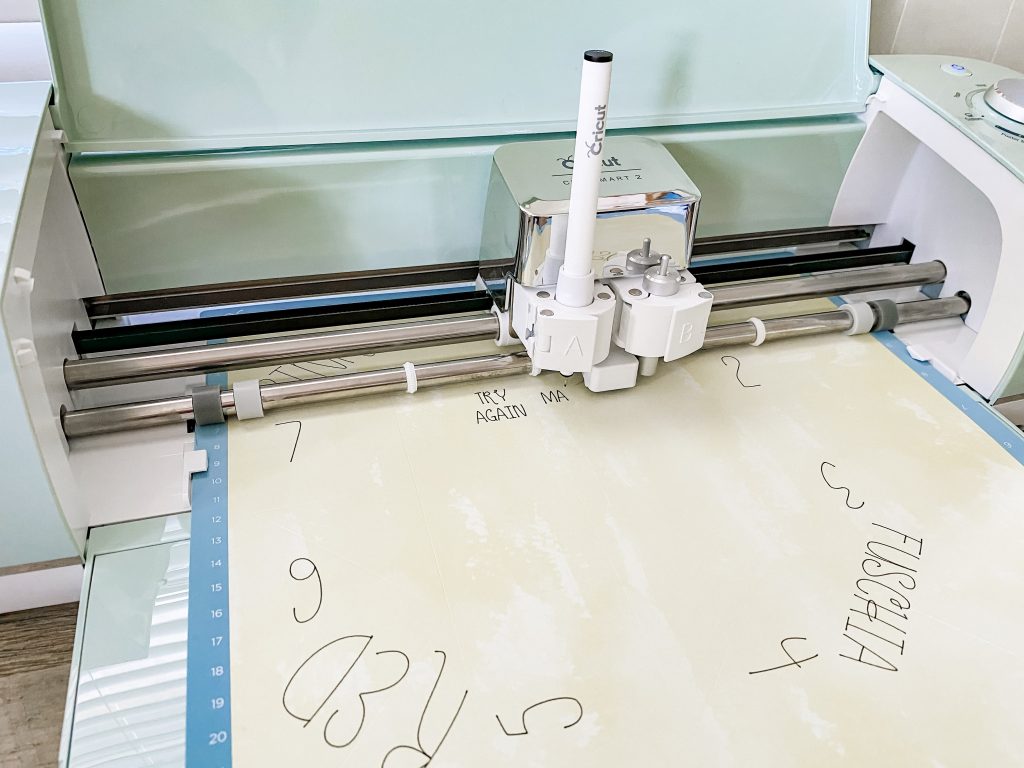 Once you click create, you follow the step by step instructions within Design Space to load the Machine Mat and start the project.  After the Cricut Machine is done cutting, scoring, and writing, you peel off the paper and fold along the scoring marks!  It is such a fun and simple project to start with while you get a feel for using the Cricut Explore Air 2.
Do you own a Cricut Machine or are you thinking about purchasing the Cricut Explore Air 2?  Let me know below, and share your favorite crafts with me!
Comments submitted may be displayed on other websites owned by the sponsoring brand.