Packing Tips for Great Wolf Lodge Resort and Indoor Water Park
I'm a chronic over-packer.  Heading out for a weekend getaway, I can easily rationalize packing half my closet and the entire bathroom.  This was the case with our recent trip to Great Wolf Lodge New England as well, and most of the stuff in our suitcases didn't get touched!  So here are my packing tips for Great Wolf Lodge in a small list of things that you may need and some things you certainly do not need to pack.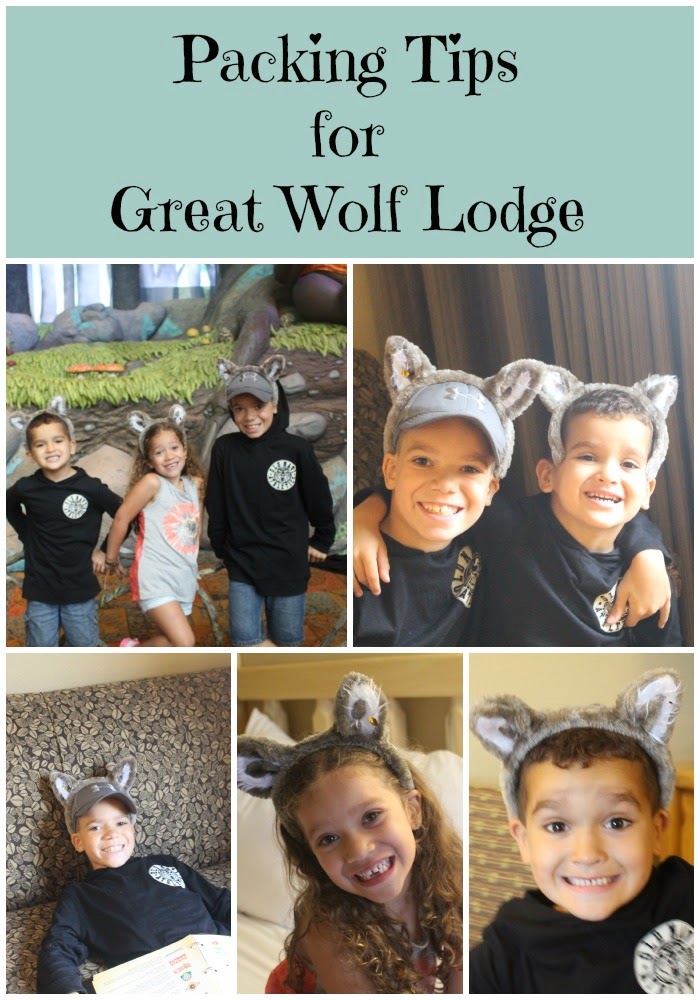 Packing Tips for Great Wolf Lodge
It's cold outside. You know what that means! Time to get the family together, pack some snacks, and head to our favorite indoor fun place – Great Wolf Lodge! Here are some helpful tips to help you pack for your vacation so you can get to the waterpark and have a blast with your family without any packing stress.
What to Bring to Great Wolf Lodge
Snacks/meals for your room – eating on-site can get pricey, especially when needing to purchase 3 meals and snacks every day.  Try packing some snacks, stuff to make sandwiches, etc.  The rooms are equipped with small refrigerators and microwaves, making it is easy to cut a meal or two off your budget by eating in your room.
Cute Pj's and Slippers for the kids – One of my favorite parts of our GWL stay was the nighttime show and bedtime story in the lobby.  Pack some cute PJs for a great photo opp and some slippers to wear down to the lobby.
Bathing suit Cover-up – you'll be making a lot of trips from the waterpark to your guest room or other activities.  A cover-up is a must-have because the pool towels must stay inside the water parks and the hallway is much chillier than the water park. 
Sneakers – I assumed all we would need at a waterpark was flip flops but boy was I wrong!  Thankfully the kids had worn their sneakers to the resort because you need closed-toe shoes to do the Howlers Peak rope course, and it is a must-do at the resort. 
Cape or Costume –  One of my kid's favorite things to do at Great Wolf Lodge was the MagiQuest game.  If you purchase a Paws Pass you'll get a basic wand and the game as part of the package.  However, all the fun wizard and princess costumes in the MagiQuest store will probably catch the kid's eyes.  If you have one packed away in your room, it's easier to cut the expense out. 
Small Bag for Dry Clothes – After check-out you still have access to the park and activities until closing.  The water park has lockers and changing rooms so packing a small bag with clothes for the ride home can be very convenient instead of digging through the suitcases in the car.
What to Leave at Home When Visiting Great Wolf Lodge
Towels – The resort provides plenty of towels in both water parks.  They have bins full of them so you can get a dry one as often as you'd like, so leave your towels at home. 
Lifejackets – There's no need to pack all the kids Lifejackets, the resort had them in every size.  So you can leave yours at home and still have peace of mind! 
Floats – Pool floats are not allowed in the water park so leave your inflatables and noodles at home. 
Sunscreen – A big perk of indoor water parks is not needing to reapply sunscreen every hour.  The New England Great Wolf Lodge only has a small splash pad outside, everything else was indoors so the bottle of sunblock never made it out of the suitcase.