*Thank you to Zoo New England for Sponsoring our Visit; All opinions are 100% my own*
Growing up in Massachusetts, I have many memories of running through the Franklin Park Zoo excited about all the beautiful animals.
Now that I have kids of my own I love spending summer afternoons exploring the zoo through their eyes.
The Franklin Park Zoo is a smaller zoo compared to some others we've been too. However I love that! I enjoy the quiet afternoons here, the kids have plenty of room to run, the crowds have never been bad during our visits, and there is plenty of places for the kids to stop and play while walking through the zoo.
One of the first animal exhibits when you arrive at the zoo is the zebras. This was a great exhibit, I was shocked at how close they came to the fence to graze on the bushes.
Across from the Zebra exhibit, the zoo has a large "Franklin Farm" area. This was filled with farm animals such as horses, pigs, goats, and a small petting zoo. This area also had a great little play area with a climb on tractor and tunnel slides.
A new attraction at the zoo is the XD Theater, a 6d motion ride. There is an additional cost of $5 per a person for the 4 minute ride.
Right outside the theater tent is another fun climbing structure. I really like how they have unique places to climb and run through out the zoo. My kids can get tired or walking from exhibit to exhibit, and need to have breaks and let loose. These play areas allow the kids to stretch and regroup before going back to animal exploring.
We got to see a bunch of fun animals including, lions, camels, Gorillas, monkeys. Madagascar's, giraffes, and more!
The Gorillas were the best, by far! They had such great personalities and Aidan wanted to stand by their habitat for hours!
We also got to see a bunch of baby Cotton-Top Tamarin Monkeys! These babies were beyond cute, so adorable!
The bird exhibit was very unique. The netted tent was filled with Budgerigar birds and for $2 you can purchase a feeding stick and have the birds come up next to you and nibble on the food.
Another fun exhibit was the giraffe habitat. Have you ever wondered what its like looking around when your as tall as a giraffe? Well at the Franklin Park Zoo they have a tall climbing structure located next to the giraffe field, making it easy for kids to see how tall these beautiful animals really are!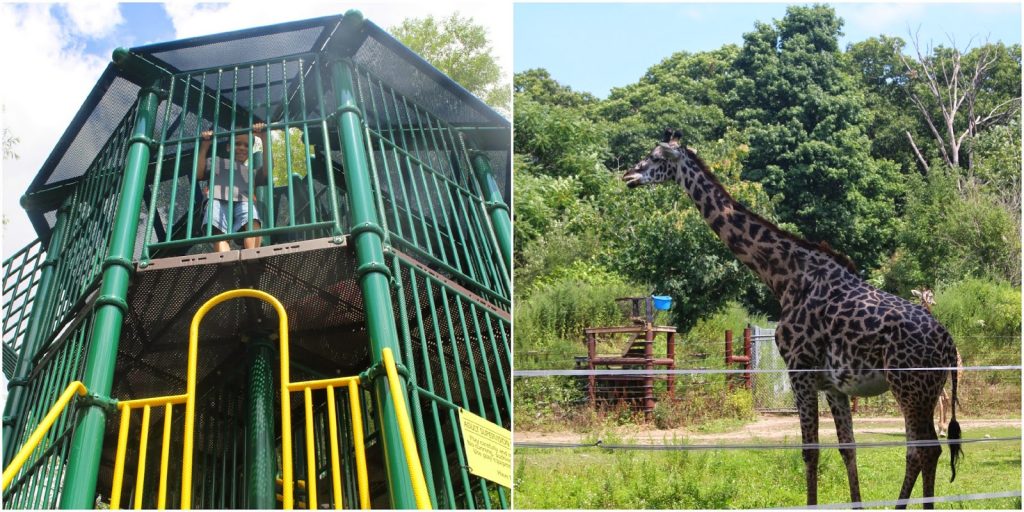 Now obviously people plan a day at the zoo to learn about animals, but to be completely honest, I would visit and spend an entire day at there huge playground area! This playground is built on a rubberized ground so I didn't need to stress about the kids falling, It had a fence surrounding the entire playground, and there were structures compatible for all ages and sizes!
All three of my kids were entertained and had a blast for hours, I finally had to convince them we should leave to get ice cream. (Yes! I totally bribed them, I was hungry!)
Before heading home for ice cream, we stopped at a few more attractions. The Black-Tailed Prairie Dog's were fun because we were very close to them and could see them climbing in and out of all their holes.

Lilly loved Butterfly Landing, she has been obsessed with butterflies lately so being in a big enclosed room full of different colored butterflies, made her ecstatic!
And of course we couldn't leave without taking a ride on the carousel! This carousel has been here for as long as I can remember and Lilly and I really love carousels.
Carousel rides are $2 a person or you can buy a combo pass and ride the zoo's train ride and jeep safari ride for $5 a person.
After we left, all three kids fell asleep before we hit the highway. This is the perfect proof of a fun family day!

The Details
Children under 2 are Free
There are numerous discounts available though, one of the best ones is the Library Pass Program. Click here for a list of Special Offers.
Monday – Friday: 10 am – 5 pm
Saturday – Sunday: 10 am – 6 pm
Connect with the Franklin Park Zoo:
*Thank you to Zoo New England for Sponsoring our Visit; All opinions are 100% my own*