Top LEGOLAND Florida Brick or Treat Tips – A Halloween Party Built for Kids
Thank you to LEGOLAND Florida for hosting us at Brick or Treat this year.  All opinions are 100% my own and I hope these LEGOLAND Florida Brick or Treat Tips help make your trip AWESOME!
LEGOLAND Florida Brick or Treat Tips
Are you ready for the sweetest Halloween Party around?  Make sure you check out the Brick or Treat event at LEGOLAND Florida this fall!  This was our first time experiencing Brick or Treat and it was packed full of the best characters, delicious treats, and spooktacular entertainment!  This is a Halloween Party that shouldn't be missed so check out my top LEGOLAND Florida Brick or Treat tips and enjoy making some bricktastic memories!  
Brick or Treat Tips for LEGOLAND Florida
Take Pictures with the Special Characters at Brick or Treat
Aidan's favorite part of visiting LEGOLAND is meeting all the characters he loves, and he was grinning ear to ear at all the different characters he got to high-five at the Brick or Treat Halloween Party. 
Every meet and greet that we went to had very short lines, there was no rushing, and I loved how each child really got to have a great one on one experience.  However, each character only comes out for 30 minutes during each time slot so if you are attending on a busy night make sure you get in line early.
The Halloween Characters included:
LEGO Witch
LEGO Mad Scientist
LEGO Lord Vampyre
LEGO Spider Lady
LEGO Mummy
The New Monster Rock Experience featuring LEGO Frankenstein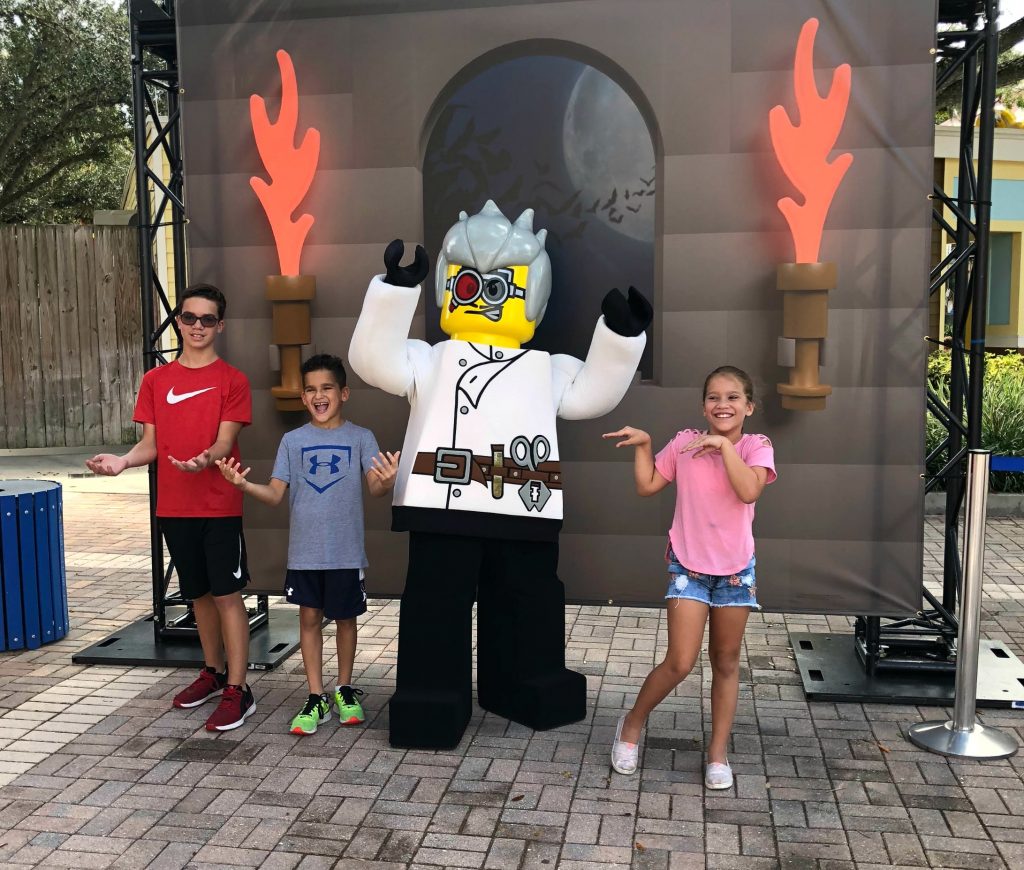 Try One of the Yummy Halloween Themed Treats
Eat dinner early so you have plenty of room for all the pumpkin flavored yummyness!  I am absolutely obsessed with Granny Apple Fries and can't imagine a trip to LEGOLAND Florida without them, So when I heard Granny Apple Fries got a pumpkin twist for Fall, it was my first stop on the way into the park!  Biggest Tip Ever: Try the Pumpkin Spice Granny Apple Fries!
Some other treats to try are:
Dirt Cups (Market Coffee Shop, Pepper and Roni's Pizza Shop)
Spooky Trail Mix (Castle Burger, Fried Chicken Co. & Panini Grill, Market Restaurant)
Halloween Rice Krispy Treats (Market Restaurant)
Pumpkin Spice Flavor Burst (Kingdom Cones)
Bust Out Your Moves at the Monster Bash!
One of LEGOLAND Florida's most popular rides is The Great LEGO Race Virtual Reality Coaster.  The line for this ride can easily be over 45 minutes on a slow day, so take advantage of the Monster Bash that is located right outside the ride area.  All the great music will definitely make the wait time pass faster.
The Monster Bash is from 5pm – 7:30pm
Collect Lots of Sweets on the Brick or Treat Trail
This trick or treating trail is filled with scarecrows, ghosts, and sweets galore! Kids 12 and under will be provided a treat bag to collect their candy haul in, and I love how the kids received lots of different options including candy, granola bars, and even a juice box!
The Trail is open from 3:00-7:00 and is weather permitting, so I recommend doing the trail as early as possible in case a Florida rainstorm comes through.
Search for Candy at the LEGO Candy Scavenger Hunt
Grab a scavenger hunt form and start your search for all the candy corns that are hidden throughout MINILAND.  We love taking our time and strolling through MINILAND, so this was perfect for my family!  Once you find all them all, head back to Studio Store to turn in your form and receive your special souvenir.
Ride the Rides and Cool of at the Water Park
Make sure you take some time to enjoy the rides LEGOLAND Florida has to offer!  This was our first time riding Ninjago and it was awesome, the kids wanted to ride it a dozen times.
It is also may be fall but it is still HOT in Florida.  It was 90 degrees last weekend when we attended Brick or Treat, so if your spending the day at the park remember to pack a swimsuit so you can head to the waterpark and cool off in the lazy river. (Remember the waterpark closes at 5 pm)
Rock Out with the Jammin' Jack-O-Lanterns
Dance to the spooky tunes as the LEGO Jack-O-Lantern Trio comes alive to put on a great 7-minute musical performance!  This show starts at 7 pm and continues every 15 minutes until the park closes.  I recommend checking these fun pumpkins out before the fireworks because it gets very crowded as everyone is leaving after the fireworks spectacular is over.
Get Hands-On with the Exclusive LEGO Brick Builds
At LEGOLAND building with LEGO Bricks is a must and during Brick or Treat there is 3 fun LEGO Builds for your family to participate in.
Bigsy Bricksey LEGO Spider Build (Fun Town)
LEGO Cobra Super Brick Build (Land of Adventure)
LEGO Mosaic (Land of Adventure)
End Your Night with A Fireworks Spectacular
Make your way over to Pirate's Cove around 7 pm to grab a pair of 3D glasses (That's right fireworks in 3D, cool huh?!?) and find a great seat.  The show starts at 8 pm and lasts approximately 7 minutes.  This was our first time seeing fireworks at LEGOLAND Florida and I left in aw!  The storyline was great, the fireworks were fantastic, and when the 3D glasses that transformed the fireworks into lego bricks were worn this show was incredible!
Brick or Treat is only here for a limited time on select dates, so grab your tickets and have a fun and spooky October night at LEGOLAND Florida!
2018 LEGOLAND Florida Brick or Treat Dates:
October 13 & 14
October 20 & 21
October 27 & 28
Hours: 10 am – 8 pm
Also, open on Halloween Night with Limited Activites (October 31 from 10 am – 7 pm)
Learn more about Brick or Treat here!
Get Social with LEGOLAND Florida: #BrickorTreat
Facebook
Twitter
Instagram
Have you been to LEGOLAND Florida's Brick or Treat?