Guide to Visiting Clearwater Beach for Families Vacationing in Florida
Clearwater Beach is perfectly made for family fun year-round! They just celebrated 100 years in 2016 so everything is bigger and better than ever before.
Vacationing on Clearwater Beach for Families
Whether you are going for fun in the sun or family memories that will stand the test of time, Clearwater Beach presents and delivers the perfect family fun. The paperwhite sand beaches are gorgeous and the sunset views are unlike anywhere else.
Family-Friendly Activities on Clearwater Beach
Pier 60
Make sure you take a walk along to the beach and check out Pier 60.  Pier 60 has a covered playground for the kids to explore, a nightly sunset festival that is packed with vendors and entertainment, and an outdoor sunset cinema on Friday and Saturday nights.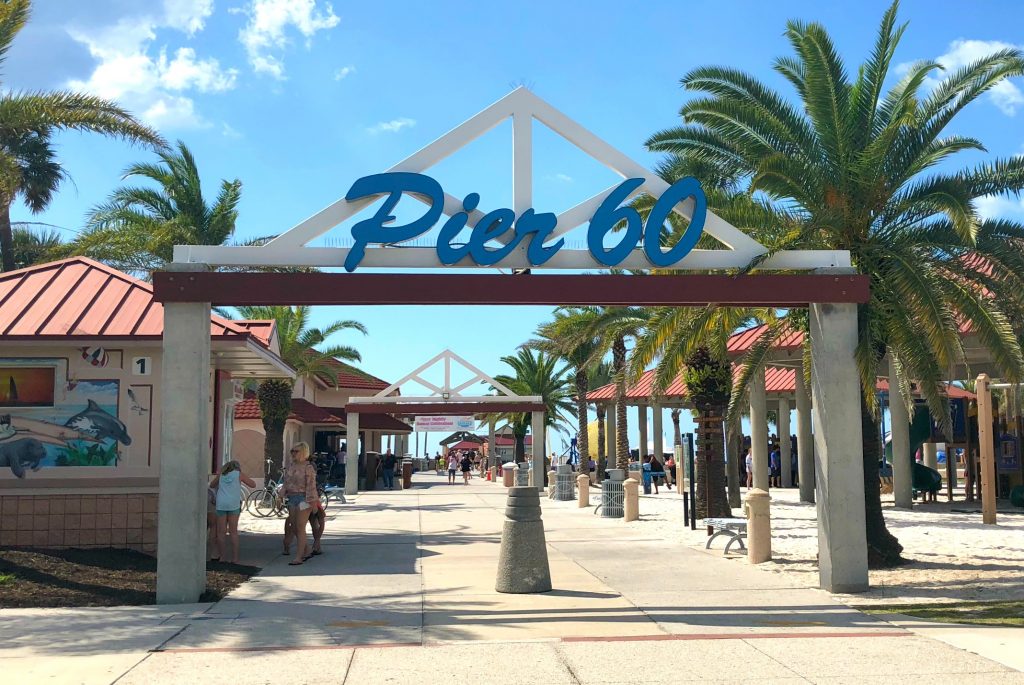 Take a Ride on the Jolley Trolley
The Jolley Trolley system is not only an affordable and convenient way to get around Tampa Bay, but it is also tons of fun.  The wooden seats and historic ambiance make it the perfect way to see all of Clearwater Beach.  Plus you can track your trolley on the ride systems app so you know exactly when to be at your stop.
Become a Pirate on Captain Memo's Pirate Ship Cruise
  This is the perfect adventure for all ages!  We first went on Captain Memo's Pirate Ship during our first trip to Clearwater Beach, and it has been a favorite of ours ever since! They offer pirates stories, treasure hunts, water gun battles, canons, and more. There is even complimentary beer and wine for the adults on the adults-only 3rd level deck. Cruise times book up quickly and are subject to change due to the weather, so I recommend getting your tickets in advance online.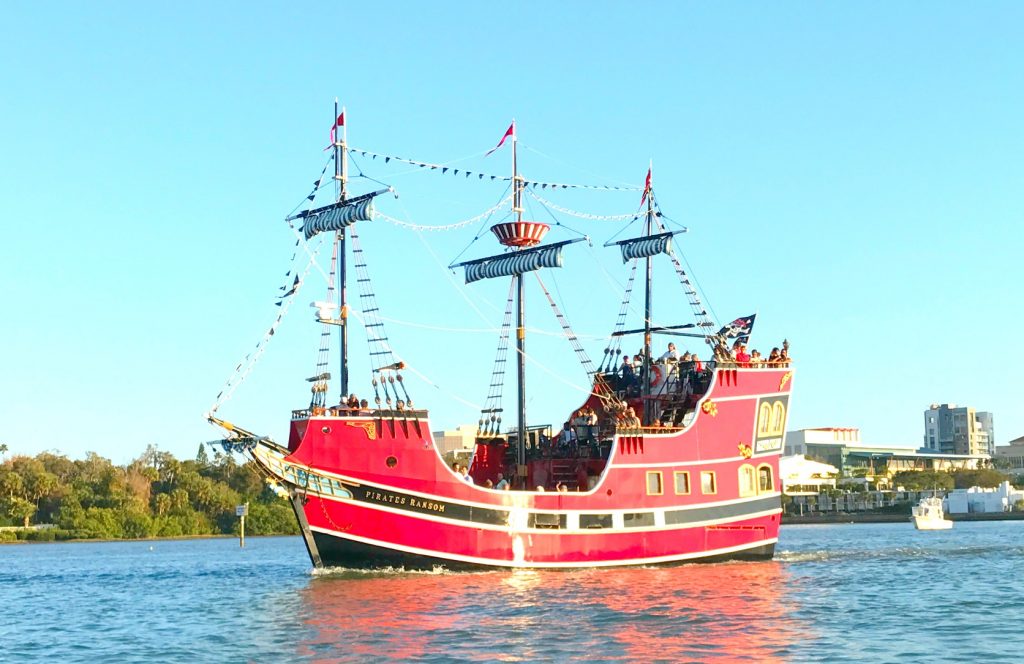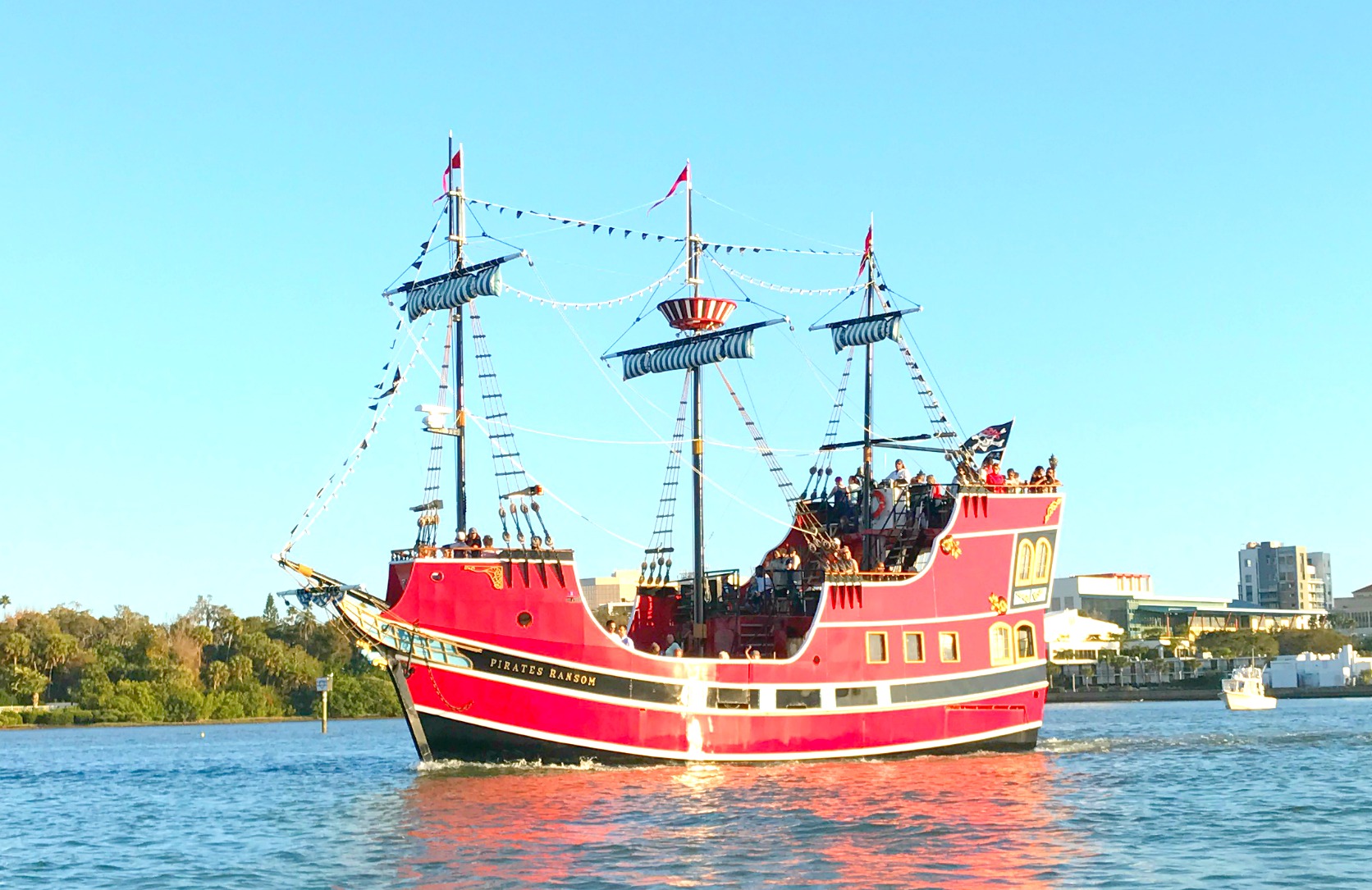 Try Indoor Surfing
One of my favorite gift shops on the beach is Surf Style, you can get everything you need for a weekend at the beach there.  They offer a convenient store section packed with snacks and ready-to-eat meals, tons of souvenirs at great prices, adorable clothes, and swimsuits, but best of all Surf Style also offers indoor surfing.  Give it a try and see how long you can stay on the board!
Visit Winter and Hope at the Clearwater Marine Aquarium 
One of Clearwater Beach's most popular attractions is the aquarium where the dolphin movie stars live!  If you are planning on visiting Clearwater Beach make sure to have a family movie night before leaving home and watch Dolphin Tale and Dolphin Tale 2, so you'll fully understand how unique this aquarium is.  Make sure you visit their friend Nicolas in the outdoor tank also.  If you are visiting the beach at just the right time, you might even get to see a sea turtle release, so check out their website when planning your visit! 
Take a Sea Life Safari
While visiting the Clearwater Marine Aquarium you can truly get up close and personal with the sea life out in the wild. The Sea Life Safari requires an additional ticket that can be purchased at the aquarium ticketing center.  It is a 90-minute longboat tour that includes an island stop where you can collect seashells, catch and release interesting sea creatures, and marine biologists on board to answer all your questions. Families love this and children are amazed!
Where To Eat in Clearwater
ClearSky on Cleveland
ClearSky on Cleveland is the go-to spot for brunch in Clearwater.  Featuring an over-the-top bloody mary bar, thick slices of unique flavored french toast, and a hash that is out of this world, ClearSky on Cleveland is the perfect way to start your day when visiting Clearwater.  They also have a full dinner and dessert menu that will keep you coming back!  Looking for something sweet?  The "Fun at the Fair French Toast" will hit the spot!
Cooters Restaurant
This laid-back and casual restaurant is one of my favorites in Clearwater.  Cooters is a family-friendly and family-owned restaurant that serves up some great food at great prices!  The kid's meals are served in Cooters' frisbees that you get to take home!  I recommend trying the Cooters Famous Wings and the Grouper Sandwich, which is known for being the best on the beach!
Frenchy's
Frenchy's is local seafood heaven and the perfect spot for when you want to take a break from the beach and grab some lunch.  They have a great menu with a little something for everyone. There are 5 Frenchy's 5 in and around Clearwater Beach, but the Rockaway Grill location is my favorite.  The beach views are amazing and the food is delicious.  If you are undecided about what to order, give the She Crab soup a try, you won't be disappointed.
Where to Stay on Clearwater Beach
Wyndham Grand Clearwater Beach
The Wyndham Grand Clearwater Beach on Clearwater Beach is the perfect place to call home while staying on the beach.  This family-friendly hotel has spacious rooms, each offering a breathtaking view.  
The large pool area offers a fun and relaxing place to spend your afternoon, enjoying a snack or cocktail while the kids practice their underwater handstands.  Then head over to the beach which is only steps away to watch the sunset!
Another reason to love the Wyndham Grand is their "Reconnect, A Family Experience" program.  They have collaborated with Yondr, to create a phone-free space featuring unique locking phone cases.  This frees guests from the nonstop temptation of checking our phones so that we can truly enjoy our vacation and family time. As a mom who is constantly balancing working on my phone and family, this program is a great way to help me power down and enjoy all the fun family moments.  
To participate in the Reconnect program, just visit one of the new special VIP areas and ask a team member for a phone case.  When you are ready to access your phone again, you simply visit the nearest unlocking station and the Yondr case unlocks with a simple tap.
Beyond the pool, the Wyndham Grand also offers restaurants, room service, a gift shop, a lobby bar, and a full spa.
Pallavi Luxury Spa on the 3rd floor of the Wyndham Grand is the perfect place for moms to take some true relaxation time to themselves.  With a full menu, offering everything from pedicures to salt therapy there is truly something to help everyone feel rejuvenated.  The Pallavi Spa also offers the popular HydraFacial which will leave your skin with an instant glow. 
If you love the beach life as much as my family then Clearwater Beach is a must-visit. Enjoy…