Get Ready for Spring with Jelly Bean Painting Watercolors
Spring is here! Even though it doesn't feel like spring for most of the country, the official first day of spring was on March 20th. Do you need an easy and fun craft to get your family into the spring spirit? Then this Jelly Bean Painting activity is just what you need!
I usually fill hundreds of plastic eggs with jelly beans for our neighborhood Easter egg hunt. Then once it's over, I end up with thousands of jelly beans all over the place. Not only is there to many for us to eat, but I usually find them under the Easter basket grass or on the floor as the kids run back in the house. This Jelly Bean Painting craft is the perfect way to have fun while getting rid of all the extra candy from Easter!
Plus I have a cute butterfly printable you can print out and paint, perfect spring vibes!
Jelly Bean Watercolors
What you need:
Small plastic cups
Jelly beans
Paintbrushes
Warm water
Spring coloring sheet printable
First, print out the free Spring themed coloring sheet.
Then start preparing your paint by separating your jelly beans into different colors. This is a great opportunity for color naming practice and counting with little ones.
Place at least 6 jelly beans into each small plastic cup. The more jelly beans you add to the cups, the darker your watercolor paint will be.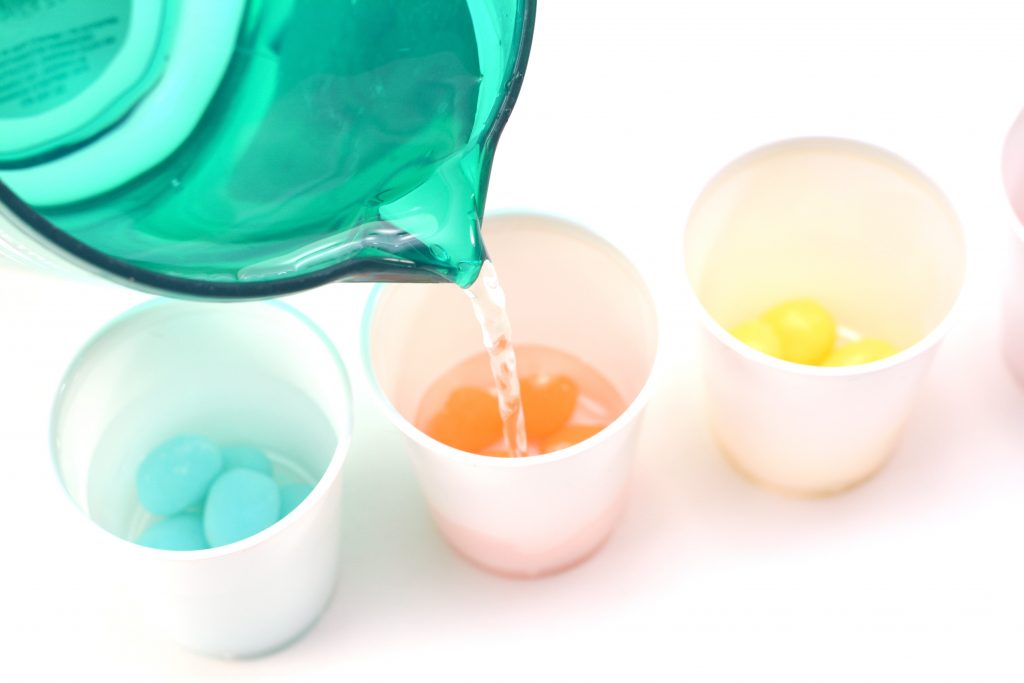 Pour some warm water into the cups with the jelly beans.
Let the jelly beans sit for up to 10 minutes, stirring every once in a while to help remove the coloring for the candy.
Finally, remove the jelly beans with a spoon and that's it, you have created Jelly Bean Watercolors!
Now have fun with the kids and use your watercolor paint as you normally would.
Happy Easter!