Making Summertime Delicious with Cool Cocktails and Fresh Food!
This post is sponsored by BabbleBoxx.com.
Make Summertime Extra Yummy with Cool Cocktails & Fresh Food!  
The first official day of summer may still be a couple of weeks away, but down here in Florida we've been feeling the heat for over a month already.  My favorite part of the summertime is having a cool cocktail with some fresh fruit and ice cream treats outside on the porch or by the pool. 
There is just something about the long days and the warm summer sun that makes a refreshing cocktail taste extra delicious.  Plus as a mom, with 3 kids home on summer break, a nice glass of Rose' at the end of the day is a perfect way for me to de-stress.
Cavit Rose' is a wine favorite in my house. It offers a perfect blend of raspberry, strawberry, cherry, and watermelon, with fresh light and crisp flavor that makes it my go-to wine during the spring and summer months.
 Fruity Rose' Spritzer Cool Cocktail Recipe
My favorite way to enjoy Cavit Rose' is in a Fruity Rose' Spritzer Cocktail.  This simple cocktail is pretty and tastes amazing, making me feel a little extra special on a hot summer day.  Plus it is perfect for entertaining.
I add frozen fruit to my wine glass to help keep the wine chilled without it getting watery.  In Florida, drinks get hot fast, so a little-frozen fruit works like a charm and looks pretty too.
Then I add a splash of IZZE Sparkling Apple Juice and then fill my glass up with chilled Cavit Rose'.  It is a fruity and bubbly spritzer that tastes great alone or paired with any meal.
Perfect Summertime Snacks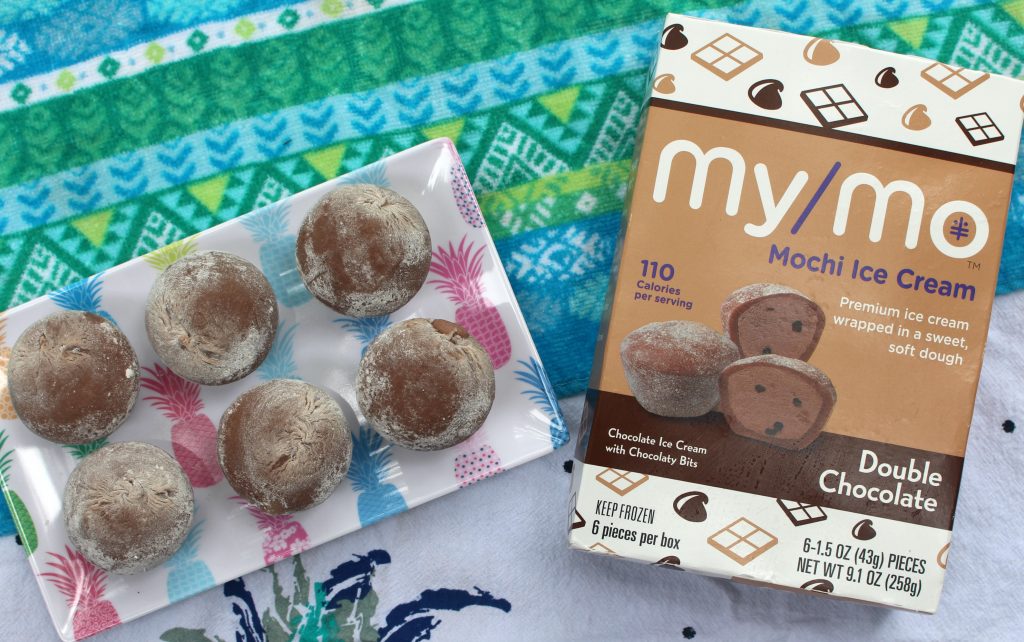 Have you heard of My/Mo Mochi Ice-Cream?  I hadn't until recently, and now my family is obsessed with these delicious ice-cream treats!  They consist of 2 parts an outer layer of sweet rice dough called Mochi that melts in your mouth, inside the sweet mochi exterior is a delicious ball of premium ice cream.  These are so yummy, and we all love that you can just pick one up and enjoy a fun Mochi Snack while playing or relaxing.
My/Mo Mochi ice cream comes in eight incredible flavors:
Salted Carmel
Vanilla Bean
Mint Chocolate Chip
Sweet Mango
Ripe Strawberry
Cookies & Cream
Green Tea
Double Chocolate
The Double Chocolate Mochi Ice Cream is our favorite!

Ready to try some My/Mo Mochi ice cream?  Use this link for $1.00 cash back on the ibotta app.
Other Great Summertime Treats
Ice Cream and fruit are our summertime go-to's, so along with My/Mo Mochi ice cream, I also stock up on fresh fruit.  The fruit this time of year is extra tasty and juicy, but we still love to try new dips and dressings.  One dressing we are loving right now is BRIANNAS Home Style Poppy Seed Dressing.  It gives our fresh peaches and strawberries an extra pop of flavor.
Another fun summertime treat that I am loving this summer is these Champagne Dreams Gourmet Gummies.  These Brut and Rose' flavored gummy bears are an adorable treat at home or on the go.
With these cool cocktails and fresh foods stocked up my summer is sure to be delicious.  What is your favorite summertime treat?