The Complete Guide to Crayola Experience Orlando!
Disclosure: We received free passes to help facilitate this post.  All opinions are 100% my own.
Complete Guide to the Crayola Experience
We spend a lot of time in Orlando and it is amazing how many things there are to do beyond the theme parks, that many visitors don't think about.  The Crayola Experience is one of these unique activities that are worth checking out when you're in Orlando!
How Much Time Will It Take:
The Crayola Experience takes about 3-4 hours to complete if you plan to visit all the attractions inside and let the kids truly enjoy this colorful wonderland. 
My kids spent hours learning and creating while visiting all the Unique exhibits, with their favorites being the Be A Star area, Wrap It Up Section, and Rockin' Paper.
When You Arrive:
After going through the ticket desk each visitor will receive a plastic bag to hold all your creations and 2 tokens.  The tokens can be used at the Wrap It Up section to make a crayon and in the Modeling Madness section to get a packet of Crayola Model Madness out of the vending machine.  After receiving your bags, you will go upstairs where all the exhibits are.
The Exhibits:
Wrap It Up:  you can personalize a Crayola crayon label and wrap it around your new crayon.
Crayola Factory:  A live theatre show that teaches you how crayons are made featuring crayon friends Scarlet & Turk
Art Alive:  Create digital works of art and let them come to life.
Toddler Town: a fun play area just for the little ones to let off some energy.
Modeling Madness:  Sculpt colorful creations using Crayola Model Magic.
Be A Star:  A photobooth that makes coloring page with you in them.
Doodle in the Dark:  Color on largely backlit doodle boards with vibrant neon colors in a dark room.
Colossal Caddy:  Sit and color with a caddy that holds thousands of crayons.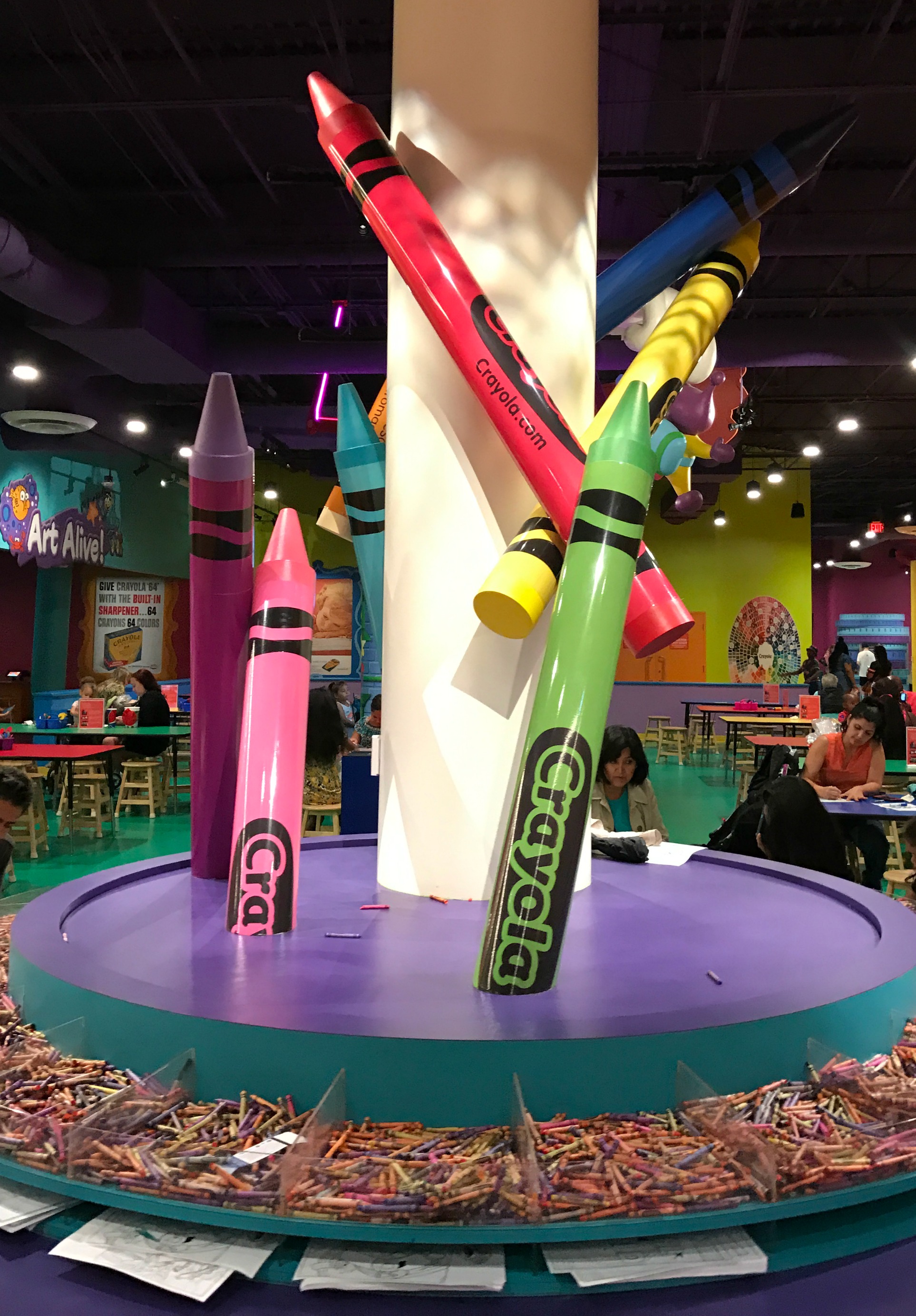 Scribble Square:  Color the square's streets and walls with chalk.
Color Magic: You get to see your coloring page come alive!  Virtually control what you just colored in a background of your choosing.
Color Playground:  A fun play area where kids can wiggle off their energy in a huge crayon structure.
Drip Art:  Melt and drip crayon wax onto your paper as it spins to create a swirly-whirly masterpiece.
Melt & Mold:  Lets you melt a crayon into a ring, shark, car or seahorse souvenir 
Rainbow Rain:  An interactive experience where you magically catch melting digital wax with your body and hands.
Meltdown:  Use melted wax to paint!
Paint Palette:  Make a painted masterpiece and then visit the larger-than-life drying oven to ensure your masterpiece is ready to take home.
You Design:  You can color and scan a car or fashion design, then show it off on a large screen.
Rockin' Paper:  Watch as you're the paper creation you colored rocks to the music.
Food and Stuff:
There are a couple of places to eat lunch or grab a snack inside the Crayola Experience.  I ordered a pretzel while the kids were playing in the Color Playground and it was reasonably priced.
Crayola Experience is in The Florida Mall, so if you're looking for more food options, there is an endless variety within this gigantic mall.
The Crayola Experience has Party Rooms, so this would be a great place to have a memorable birthday party!
Save some time for the gift shop!  I'm usually not a huge gift shop shopper, but at the Crayola Experience store you can pick a tin for between $16.99 – $21.99 and fill it with crayons or markers.  For the size of the tins, I think this is a reasonable price, plus it is so much fun picking your favorite colors from the crayon wall!
Location:
Located within The Florida Mall, makes The Crayola Factory easy to get to and adds to the fun that can be had.
Crayola Experience
8001 South Orange Blossom Trail 
Orlando, Florida 32809 
When to Visit:
Open daily, 10:00am-8:00pm
Cost of Admission:
General Admission: $19.99 plus tax per person
Kids under 2 are Free
Annual Pass: $29.99 plus tax per person