Clever Laundry Hacks To Simplify Your Laundry Routine
Laundry can be an endless chore for large families, luckily these Laundry Hacks will help simplify your routine and save you time and energy.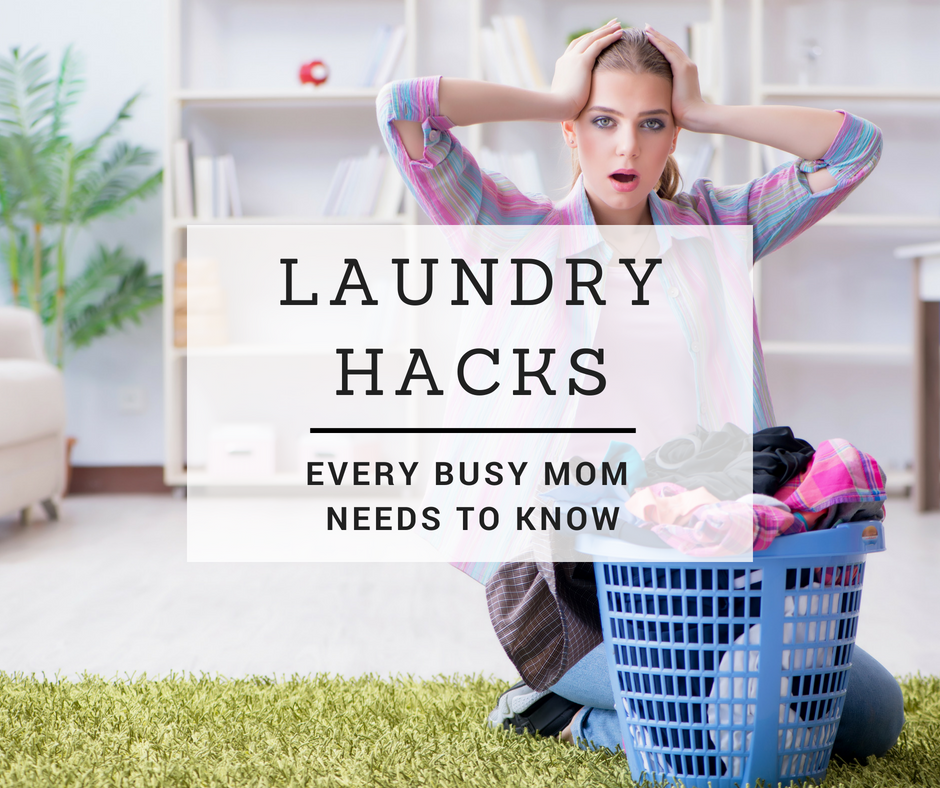 Laundry Hacks 
Laundry is one chore that seems to be never-ending. As soon as you finish up your laundry, more piles up in the basket to be done. I am always up for learning ways to make doing laundry easier! From getting stains out of clothes, learning how to remove that mildew smell in towels, and more. I am going to share some clever laundry hacks to simplify laundry! These hacks will save you time and get the job done! Make sure to share these awesome laundry tips and tricks with your friends and family!
Laundry Hacks Every Busy Mom Needs To Know 
Armpit Stains
If you have boys in your home or tend to sweat a lot, here is a solution to armpit stains! Mix a teaspoon of liquid Dawn Dish Soap, two tablespoons of hydrogen peroxide, and then one tablespoon of Dawn dish soap. Massage the mixture on the armpits area, let sit 5 minutes, and then wash like normal. Test on gentle fabrics to ensure it won't hurt the garment.
Wash Socks in Mesh Laundry Bag
Don't lose another sock again! Wash your socks and bras in a mesh laundry basket. This will get the socks clean and keep them all in one place, so you don't misplace or lose one or two again.
Shower Curtains
Instead of tossing out your plastic shower curtain liner, wash it! Just toss it in the washer, with 1-2 cups of white vinegar. Then grab a tennis ball and put it in the washer to help loosen up any mildew, soap scum, and other gunk on your curtain.
Washing Pillows
 Wash your pillows in hot water with 1 cup powdered dishwasher detergent, 1 cup laundry detergent, 1/2 cup borax, and 1 cup of bleach. It will get your pillows looking white in no time!
Grease Stains
Use a piece of white chalk to remove those grease stains. Just wipe it over the area with the stain, wait a few hours and brush off any excess chalk, and do laundry as usual. It will work at pulling out the grease out of the fibers of the garment.
Un-shrink Shirt
Your favorite shirt shrink a little while it was getting washed? Just fill the sink with warm water and then add a tablespoon of hair conditioner. Allow the shirt to sit for about 20 minutes and then wring it out and lay flat to dry. As it dries gently stretch on the shirt to help get it back to original size.
Towels Smell Like Mildew
Run your towels through a hot water load with 1 cup of vinegar. Then run them through a second time with hot water and this time use 3/4 cup of baking soda. Then dry as normal, and the mildew smell should be gone.
Write on Washer
Have an item or two that you need to remember that can't go into the washer, write it on the washer lid with a dry erase marker! Then just wipe it away once you are done with the washing.
Dryer Tips 
No Dryer Sheet
If you run out of dryer sheets, wad up a ball of aluminum foil and toss in your dryer. This will prevent static and dry your clothes faster. You can use the same ball of foil over and over, just toss it out at the 6-month mark, and use a new one.
Flat Iron
Did your iron break or in a rush, use a flat iron to get rid of wrinkles. A flat iron is great for traveling because it can act just like a regular iron! 
Piling on Sweaters or Shirts
If you have piling that attaches to a shirt or sweater after you cleaned it, grab a razor. Run the razor over your clothes to shave off all the fuzz, just be gentle.
De-wrinkle Clothes
Clothes wrinkling and don't have time to iron. Toss a few ice cubes or a wet washcloth into the dryer with the garment. The moisture will help freshen the clothes and release the wrinkles.
Lint Trap
Getting your lint trap cleaned, can be hard. Put a paint stir stick or ruler on the corner of a pillowcase or rag. Then lightly spray the corner with water, and stick it down in the lint trap. The wetness will make the lint stick easier, and you can clean out any lint that has fallen.
Clean Lint Trap
If you have a plastic lint trap that is able to be removed, make sure you wash it regularly. Use Dawn dish soap and a toothbrush to scrub at it in hot water. It can develop a film and it will make drying clothes take longer, so washing it regularly really helps cut down drying time and gives your dryer a longer life. Just let it air dry before you put the trap back in the dryer.
Now that your Laundry is tackled, let's get the rest of the house sparkling clean with these Magic Eraser Hacks!