Blueberry Shortcake Recipe with Fresh From Florida
This post was sponsored by Fresh From Florida as part of an Influencer Activation for Influence Central, however, all opinions expressed are my own.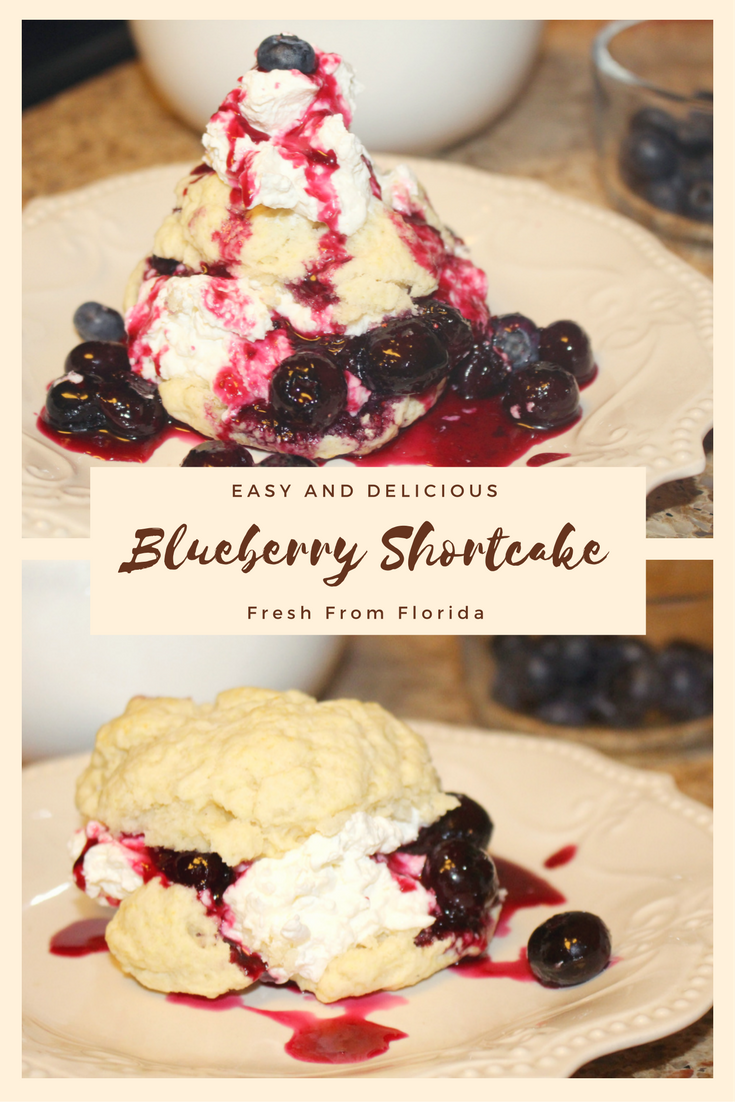 Living in Florida has been fantastic for my taste buds!  The hot weather makes my family crave fresh fruit and veggies, and Florida delivers during every season.
Florida Farmers make it so easy for everyone to eat fresh produce year around! Within a 5-mile radiance, there are over a dozen farmers markets held on various days of the week, and in Florida, something delicious is always in season!  My favorite is the Dunedin Downtown Market, I love the quaintness of Dunedin with the cute shops and restaurants, and this market is held in the center of town so we can shop for our weeks produce and then enjoy a morning stroll around town.
One of my family's favorite treats is Blueberry Shortcake, it combines one of our favorite fruits and an indulgent biscuit with whip cream.
We like to make this to enjoy after Sunday dinner or for breakfast on special mornings.  The only problem I encounter with this recipe is that if I shop with my children, the blueberries never make it home.
Being new to Florida, I was used to digging through a carton and finding a few big juicy blueberries surrounded by small sour ones.  So, when I bought my first package of berries in Florida, I ate them all in less than 10 minutes and had to go back to the farm stand to get more for the kids.  Every blueberry was plump and sweet!  So now whenever I shop, I always look for the Fresh From Florida label on produce, seafood, and even wine!
Want to try some delicious Blueberry Shortcake?  Here's the recipe:
Blueberry Shortcake Recipe
Ingredients:
1 1/2 Cups of Flour
1/2 Cup and 3 Tbsp. of Sugar
2 Tsp of Baking Powder
1/4 Tsp Salt
1/2 Cup of Butter
1/2 Cup of Milk
1 Tbsp. of Lemon Juice
1/2 Tsp of Vanilla Extract
1/2 Tsp of Almond Extract
1 1/2 Cups of Cool Whip
2 Cups of Blueberries
Shortcake Directions
Heat oven to 425 degrees
Whisk together Flour, Baking Powder, Salt, and 2 Tbsp. of Sugar.
Using a mixer add in butter, once Butter has crumbled mix in Milk and Almond Extract.
Gather Dough and break into 6 pieces, place on a buttered baking pan.
Cook for 13 to 15 Minutes till the bottom is golden brown.
Blueberry Jam Directions
In a medium saucepan simmer 1 1/3 cups of Blueberries. 1/2 cup of Sugar. and Lemon Juice on medium heat for 8 minutes.  
Once the blueberries have softened and the mixture has a syrup like look, Mix in 2/3 cups of Blueberries.  Remove from heat and let cool.
Cream Directions
My kids love cool whip, and I love shortcuts, so we use cool whip instead of making a whip cream from scratch.  However, this can easily be swapped out for any whip cream you like.
Take 1 1/2 cups of Cool Whip and fold in 1 Tbsp. of Sugar and 1/2 Tsp of Vanilla Extract.
Once everything is cooked and cooled down, it's time to assemble.  
Cut the shortcake biscuit in half.
Spread the whipped cream on both sides of the biscuit and add a large spoonful of the Blueberry Mix.
Put the Biscuit back together, and add a dollop more of whip cream to the top of the shortcake with another spoonful of Blueberry Mix.
If you haven't eaten all the left-over Blueberries yet, you can add a few to garnish the plate.
That's all, a yummy, almost from scratch, delicious dessert!
What is your favorite was to cook with fruit?
Need more ideas?  Check out the Fresh From Florida recipe page!
Follow the Fresh on social media and check out their Fresh! recipe videos!
Facebook
Twitter
Instagram