The 20 Best Holiday Gift Ideas for Kids This Year!
The holidays are here and it's time to find all the little people on our lists the coolest toys!  I made this year's shopping a whole lot easier by compiling a list of the top 20 gift ideas for kids.  I have included something that each age group will love and toys that can fit a variety of budgets.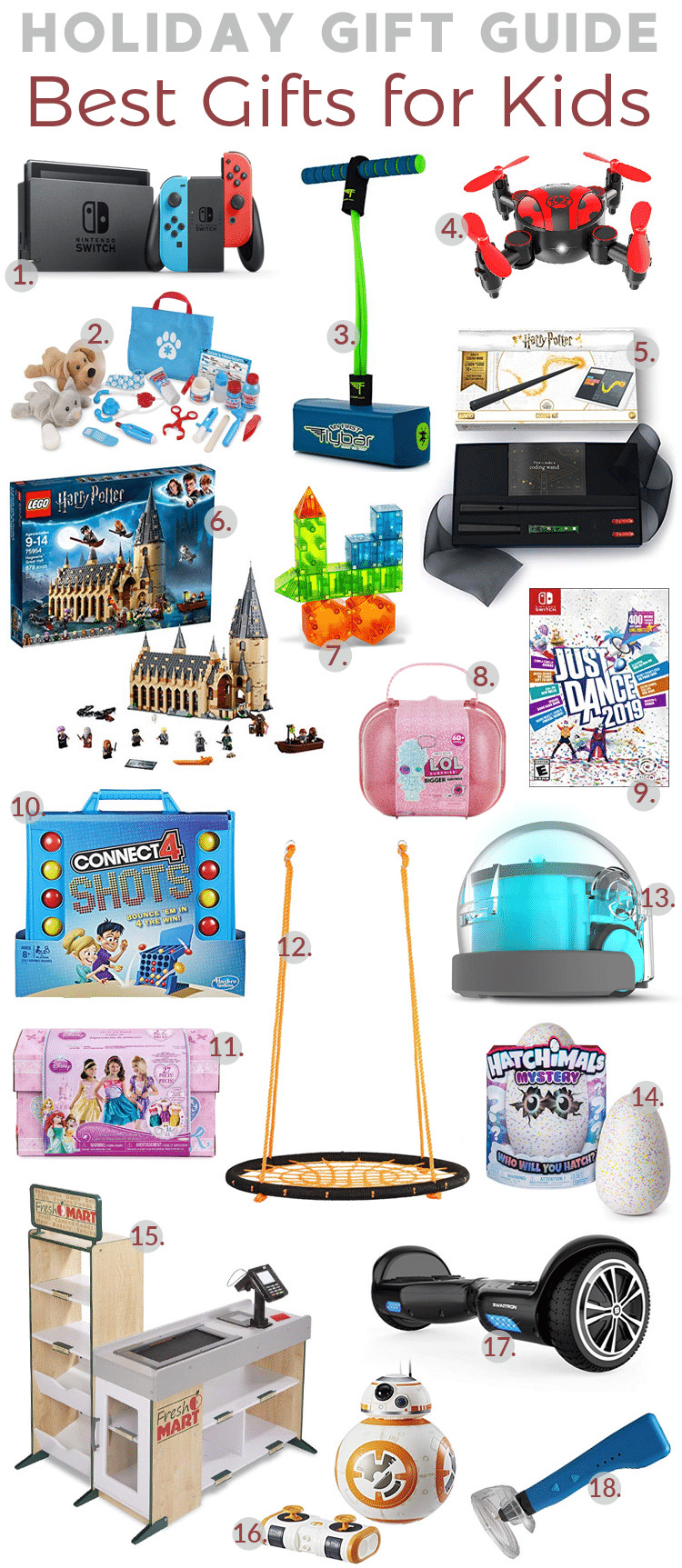 For your convenience, this post contains affiliate links. As an Amazon Associate, I earn from qualifying purchases.
Gifts Ideas for Kids
Nintendo Switch: Nintendo Switch is Nintendo's latest home video game system. In addition to providing single and multiplayer thrills at home, the Nintendo Switch system can be taken on the go so players can enjoy a full home console experience anytime, anywhere. 
Vet Play Set: The Melissa & Doug examine & treat pet vet playset is a 24 piece set with a plush dog and cat, pretend to play vet medical equipment, and a tote bag for easy storage.
Foam Pogo Jumper: Boing; Boing, Squeak! The My First Flybar foam pogo stick is hours of healthy, bouncy fun. Crafted from durable foam, this is an ideal first pogo stick for kids; each jump makes a fun squeaky sound destined to delight!
Kids' Drone: One Key Take-off /Landing: Take off the drone to a set height or land it to the ground by pressing a single button. Perfect for kids and beginners!
Harry Potter Wand Coding Kit: Build your own wand. Learn to code with step-by-step creative challenges. Make magic on a screen, with a wave, twist, and twirl. Create, share, and play with the Kano community.
Harry Potter Hogwarts LEGO Set: Build and recreate a magical fantasy realm from the Harry Potter movies with this detailed 4-level LEGO 75954 Hogwarts Great Hall Harry Potter castle building kit, featuring a fireplace, benches, tables, and reversible house banners, plus the Grand Staircase tower with a spiral staircase, potions room, treasure room, sorting hat, Mirror of Erised and lots of magical artifacts accessory elements. This fantasy role-playing castle toy includes 10 mini-figures and buildable Basilisk and Fawkes creatures, plus Hedwig and Scabbers figures.
Magna-Qubix: The brand-new building set from the Magna-Tiles family, Magna-Qubix, features an array of new shapes including cubes, prisms, and pyramids. Anything your children can dream, they can build with Magna-Qubix! Each translucent and colorful shape measures about 1 inch by 1 inch and can be used with your favorite Magna-Tiles sets and other favorite toys. 
LOL Surprise: L.O.L. Surprise dolls were on a top-secret mission when their pet went missing Find surprise clues across the eye spy series to help find their pet Discover 60+ Never before seen surprises inside the L.O.L. Surprise bigger surprise with exclusive dolls and accessories.
Just Dance 2022: Dance to your own beat with Just Dance 2022, the ultimate dance game featuring 40 hot tracks from chart-topping hits to family favorites.
Connect 4 Shots: The Connect 4 Shots game is fast-paced, rapid-fire fun in a race to get 4 shots in a row! Count down to start: 1-2-3…bounce! Two players bounce the lightweight, colorful balls into the grid at the same time.
Disney Princess Dress-Up Trunk: This Disney princess dress-up trunk is an invitation to hours of make-believe, dress-up fun. With over 25 pieces and matching accessories to create three iconic princess outfits, your little one will be able to play a part in her favorite fairy tales.
Outdoor Web Swing: Hang indoors so kids relax with gentle movement or mount it on a sturdy tree for play dates, picnics, and parties.
Coding Robot: Start learning and loving robots with Ozobot Bit, the coding robot ranked among the top smart toys for kids. It comes with a STEAM starter kit of DIY stickers, 2 DIY skins, color code markers, an OzoDice game, and 25 activities.
Hatchimals: These mysterious new friends love cuddles and snuggles. Raise your Hatchimals Mystery from baby to toddler to kid and experience all new music and games! You can even teach your Hatchimals Mystery how to say your name and they'll remember! Your new friend will use your name in everyday chat.
Wooden Grocery Store: Shopping and playful purchasing will never be more fun than with the sturdy, wooden Fresh Mart Grocery Store! 
Star Wars Jedi Robot: This remote-controlled Hyperdrive BB-8 rolls in any direction and makes expressive droid sounds as kids lead him into adventure at accelerated speeds! Control the action with remote-controlled accelerometer technology, and watch as Hyperdrive BB-8 lights up and his head moves in any direction!
Hoverboard: Like this All-Terrain Off-Road Hoverboard with Bluetooth Speakers and LED Lights!
3D Printing Pen: Create, Draw, Doodle, Sketch, and Build like a Pro in 3D with our new SCRIB3D Advanced Pen. It features variable speed control, a large LCD screen to help monitor heat and ensure you have the correct settings, as well as a range of other engineering enhancements to ensure a smooth and accurate Doodling experience.
Snap Circuits My Home Set: Your home, your power, know how it works!  Learn about circuitry, security systems, dimmer switches, automatic lights, alarms, motion detectors, fan speeds, appliance motors, generators, and much more! Build a house or city tower with real, working, 3-D circuits, just like the ones you use every day. With seven colorful base grids to make your structure your own, learn how electricity travels and powers your home.
Blume Rainbow Sparkle Surprise: This exciting friendship set comes with three secret playsets and three Blume dolls that feature limited edition sparkly hairstyles. Just add water and watch as the rainbow cloud releases rainbow rain into the flower pots, magically growing all your Blume dolls before your eyes! 
Need More Gift Giving Inspiration? Here are some more fun gift options for kids!
Ready to Finish Your Holiday Shopping? Check out these Gift Guides!
Gift Guide for Cricut Crafters