The Perfect Beach Snack Ideas – A Delicious Bread Tray
This post was sponsored by Heluva Good! as part of an Ambassador Program and all opinions expressed in my post are my own.
Beach Snack Ideas
I can't believe it's Labor Day weekend already!  Are you heading out on the water or hitting the sandy beach to celebrate?  If you are, I have the perfect snack idea for you!
Living in Florida we spend a lot of time on the boat and at the beach, it's pretty much a way of life down here.  With three kids, you can imagine snacks are always on my list of what to pack, and knowing that space can be limited on the boat plus, we will likely be carrying food to a sandy beach once the boat is anchored, limits my snacking options.  With space being a concern, I also like to find meat snacks and cravings that everyone likes, both the kids and the adults.  Chips and dips are always a popular duo, but after a few days in a row, my go-to snack becomes mundane and it's time to get creative.
Luckily with Heluva Good! Dip there are so many other dipping options!  With an assortment of flavors including French Onion, Buttermilk Ranch, White Cheddar and Bacon, Bodacious Onion, and more, they really have a flavor to satisfy everyone's taste buds and to pair with whatever you want to dip.
One of my family's favorite foods to dip in every flavor of Heluva Good! The dip is bread, in particularly pumpernickel bread.  It is a tasty and satisfying snack that is super easy to prepare and take out to the beach.
I grab a couple of loaves of bread from the bakery, uncut.  As I said pumpernickel is a favorite of mine, but we also love French bread and Sesame bread.
For the small loaves, I cut it into thin slices.  For large loaves or the round loaves that pumpernickel usually comes in I just tear it apart by hand into small chunks.
I then package it all back up in the bags I bought it in, or in a ziplock bag. 
The bread can be put right in your beach bag and is ready to go, and the small Heluva Good! Dip tubs fit easily in any cooler.
Once we get to the beach, the kids will either snack right from the bag, or if there's a group of us, like at a Labor Day party, I will bring along some plastic bowls/plates so everyone has room to dip. 
I love how easy this appetizer is, yet it is not something often thought about, making it an awesome snacking experience!
What is your favorite food to dip?
Make sure you look for these bold-flavored dips in the dairy aisle at a store near you!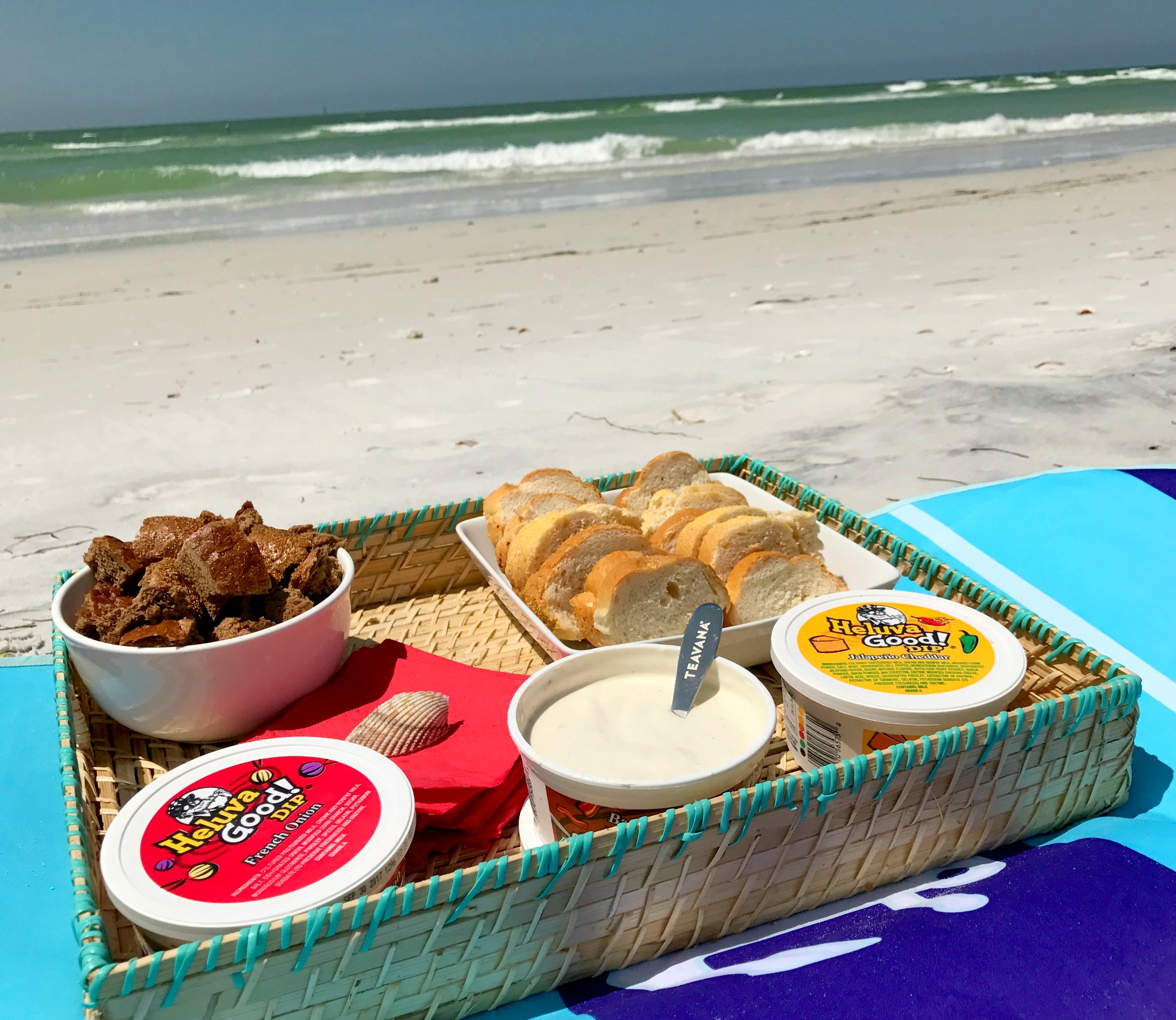 More Family Beach Day Tips
15 Fun Things To Do At The Beach With Kids To Keep Them Entertained
Tips for the Perfect Beach Day with Kids and Garnet Hill Kids
Top 10 Beach Bag Must Haves for a Busy Moms Perfect Beach Day