Mayfield Creamery Ice Cream is Now Available at Florida Publix!
Thank you to Mayfield Creamery for sponsoring this post.
Mayfield Creamery Ice Cream is Now Available at Florida Publix!
It may be November, but here in Florida, we eat ice cream all year long.  With three kids, you can imagine my grocery cart is packed full of different flavors to keep everyone cool while in the Florida sun.  So, with a houseful of ice cream lovers, I assumed I had tried every brand and flavor there was to try.  I was wrong!
Until recently I had never heard of Mayfield Creamery Ice Cream.  So, when I was introduce to this genuine southern homemade ice cream that has been loved by many since 1923, I was intrigued.  Then, when I heard they were fanning out and expanding to new markets across the South and Southwest, and being sold at the grocery store I shop at every week, Publix, I knew I needed to get my taste buds on some.  
When I went to Publix to grab a carton, I quickly realized my 5-minute shopping trip was going to take a bit longer.   There are so many enticing flavors to choose from. Mayfield Creamery makes a variety of iconic signature flavors, classics for the whole family, and an exciting array of limited time only varieties.  Walking out of Publix with just one container was impossible, and walking out with just three containers was a miracle.
My Favorite Flavors
I ended up choosing Signature Vanilla, Limited Edition Banana Pudding, and Candy Jar Crunch.
As soon as I got home I opened the Banana Pudding ice cream, because banana flavored ice cream is one of my all-time favorites, but it's also hard to find.
I was incredibly impressed with how smooth and creamy the texture was, it scooped out of the carton easily and seemed to have a soft serve type of texture.  Then the flavor was a smooth creamy banana flavor pie chips swirled in to make a perfect pair.  One bite of this flavor made me immediately hide the rest of the carton in the back of the freezer out of my children's sight.  This is now mommy's treat.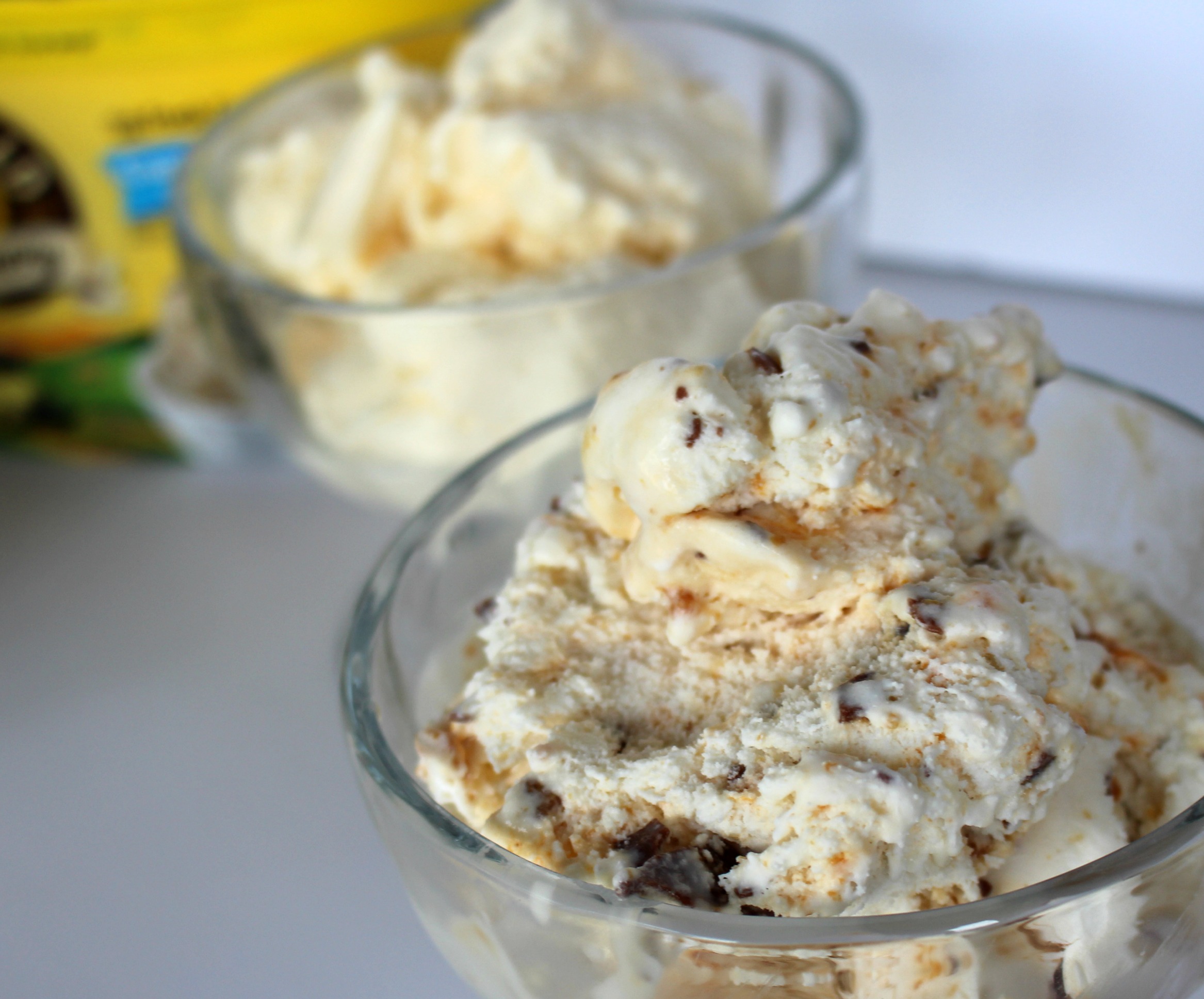 The candy jar crunch ice cream flavor is a smooth creamy vanilla ice cream with swirled in chocolate covered peanut candy pieces.  The twin loved this flavor, Aidan already has it written on the shopping list for next week too.
The signature vanilla flavor is also smooth and creamy, it was delicious on its own and inside our hot cocoa!  It's the holiday season which means lots of movies and cocoa, so we drank our cocoa with a Florida twist and added some nice cold and creamy ice cream.
Why Mayfield Creamery?
Mayfield Creamery ice cream uses fresh cream from their own dairy, with no artificial hormones, and uses a family recipe that has been perfected over three generations!  They set themselves apart from other ice cream brands with their storied heritage, unique flavors, and commitment to making ice cream that mirrors the values of the Mayfield family.
After learning about this brand, and trying their ice cream, I can honestly say that my family has found it's new favorite ice cream brand!
We are very excited that Mayfield Creamery has expanded into Publix locations in Florida!
Make sure you head over to Publix and try some Mayfield Creamery ice cream, and come back to tell me what your favorite flavor is!