Learn "What Is Sepsis", the Stymptoms of Sepsis and Get Ahead of it!
This is a post prepared under a contract funded by the Centers for Disease Control and Prevention (CDC) and written on behalf of the Mom It Forward Influencer Network for use in CDC's Get Ahead of Sepsis educational effort. Opinions on this blog are my own and do not necessarily reflect the views of CDC.
What is Sepsis
Infections put you and your family at risk for a life-threatening condition called sepsis. Anyone can get an infection, and almost any infection can lead to sepsis. Did you know that more than 1.5 million people in America get sepsis each year?  That number alone seems astonishing, but the fact that at least 250,000 people die as a result is heartbreaking.
I spent a lot of time in and out of hospitals with my grandmother in my late teens and early twenties.  I was her healthcare proxy and one of her main caregivers. I remember some of the faces I would get when I showed up at the hospital after getting a phone call in the middle of the night.  I got quite a few comments from nurses about being an 18-year-old taking on medical decisions, but most people just didn't understand the bond my Nana and I had.
Now nearly 20 years later, I look at other 18-year olds and wonder how I did it. More so, when I hear statistics like these, I get chills at the thought that I could have lost her far sooner than I did.
What is Sepsis?
Sepsis happens when an infection you already have, triggers a chain reaction throughout your body.  Sepsis is the body's extreme response to that infection; it is life-threatening, and without treatment, sepsis can rapidly cause tissue damage, organ failure, and death.
The number of people who get this condition and lose their life, as a result, is heartbreaking, but the scariest statistic is that only 55% of Americans have heard of sepsis. So, act fast. Get medical care immediately if you suspect sepsis or have an infection that's not getting better or is getting worse.
Sepsis Signs and Symptoms
Sepsis signs and symptoms can include one or a combination of the following:
Confusion or disorientation
Shortness of breath
High heart rate
Fever, or shivering, or feeling very cold
Extreme pain or discomfort
Clammy or sweaty skin
Sepsis is a medical emergency. If you or your loved one suspect sepsis or has an infection that's not getting better or is getting worse, ask your doctor or nurse, "Could this infection be leading to sepsis?"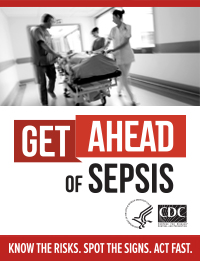 To learn more about sepsis and how to prevent infections, visit www.cdc.gov/sepsis.
For more information about antibiotic prescribing and use, visit www.cdc.gov/antibiotic-use.